Looking for a custom knee brace to help with a ligament injury or osteoarthritis? Our brace fitting team can help you select the right brace. We offer fast free advice, custom measurement, and assistance with insurance approval. Available across Canada! Who does the fitting?
Book a Free Consultation
(we respond: in under 24 hrs, 7 days/week)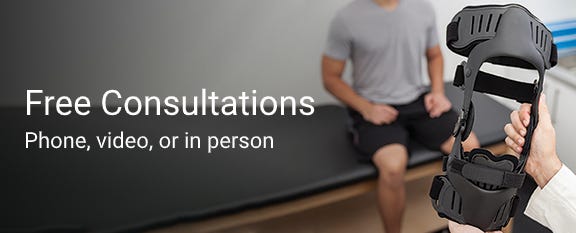 In Person: Your custom fit knee brace delivered within two weeks!
All the top brands
We come to your home or office!
Available in select cities across Canada
Qualified Orthomed product specialist
In-person visit to show you samples and measure you
All after care and support included
Phone & Video Consults : Convenient and fast!
All the top brands
A virtual consultation using your platform of choice
FaceTime, Zoom, Skype, Teams, Hangouts,… whatever you like
Qualified Orthomed product specialist
Virtual Appointment to discuss your needs and show you samples
Assisted Self Measurement to help you measure yourself
All after care and support included
If your brace isn't working out, don't worry! Your satisfaction is our promise
Our custom braces include a Lifetime Warranty from Orthomed
You will only pay for parts related to wear and tear
Dealing with insurance companies and coverage can be difficult to manage
We'll take care of it for you and guide you through the approval process
Direct billing is available for many insurance companies
Help with submitting a pre-approval to your insurer so you know you're covered
Please note, that our advice is not intended to be a substitute for a medical diagnosis or treatment. As always, if your situation is urgent or an emergency please contact your doctor or local hospital immediately.