Our Qualifications
Orthopaedic Bracing is all that we do! Knee, foot, ankle, wrist, thumb, shoulder, elbow, back, spine and more. We carefully select our client service coordinators and brace fitters so you can be confident that you're dealing with a team that has the proper qualifications. All OrthoMed team members who provide our services work directly for OrthoMed and have health care backgrounds, including Kinesiology, Orthopaedic Technology, Physical Therapy, or similar. Our Client Services Team is located at our head office in Ontario, and our Brace Fitters are located in most major cities across Canada.
Part of Your Healthcare Team
Our advice is included in our product prices, there is no obligation to purchase, and we'll help you select a product that is within your budget. Our experience comes from helping thousands of clients across Canada.
When helping you find the best product we consider your lifestyle, age, any risk factors that you may have, and we can review any diagnostic information that you provide. With our orthopaedic bracing products we determine the type of support, level of stability, and fit that your brace will require to meet the demands of your daily activities, sport, or injury. With our healthcare devices and supports, we will help you understand the differences, features and benefits of each product, so that you can narrow down your options.
In some cases, we can communicate (with your consent) with your medical doctor, Physiotherapist, or other health professional to get more informaiton about your diagnosis, and to make sure that the brace or product selected is the right solution for your condition.*
We are also available to you after you purchase, to answer any questions you have about how to use your product most effectively and to assist with any return or warranty issue.
To get assistance with one of our off-the-shelf products or to request a free in-home or in-office consultation for a custom knee brace fitting, contact us today.
More about What We Offer
Our state-of-the-art line of orthopaedic braces and support therapies are scientifically proven to offer improved protection, comfort and stabilization throughout the rehabilitation and recovery process, as well as injury prevention. With the option of either off-the-shelf or custom-built designs, we're well-equipped to address abnormal alignment, post-surgeryor post-injury treatment, and a wide range of orthopaedic support requirements
We cater to your needs by offering email, video, or in-person (home or office) options for consultations. Evening and weekend support is always available, as well as complimentary follow-up product care and maintenance.
Our products include: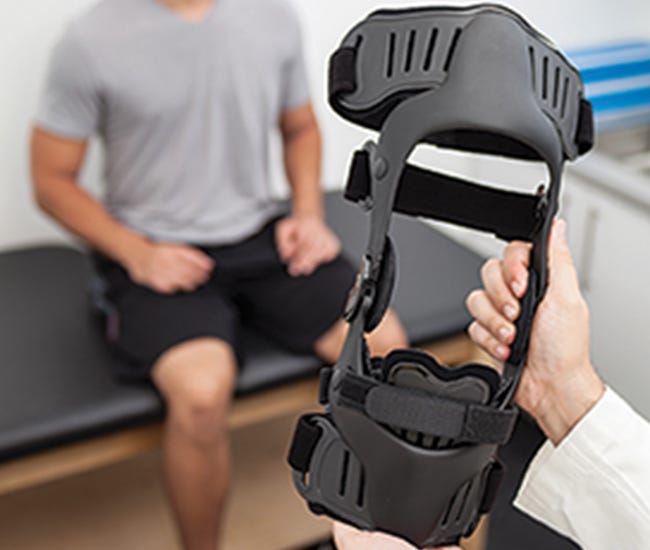 *Please note, that our advice is not intended to be a substitute for a medical diagnosis or treatment. As always, if your situation is urgent or an emergency please contact your doctor or local hospital immediately.