Best Policies in the Industry
Quite simply, we want your purchase to work for you. Our no-risk, 30-Day Money Back Guarantee (with only a few exceptions) allows you ample time to see if your investment in your health is doing the job you expect and deserve. If, after trying the product within this time frame, you are not completely satisfied, you may return the product for a refund of the full purchase price no matter the condition.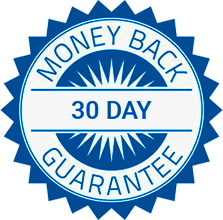 We only have a few exceptions. We want all of our customers to be happy, over 99% of our products are covered by our industry leading money back guarantee. Due to health regulations, product design or use indications a few exclusions apply:
Bone growth stimulators, cold therapy products, DRYPro Cast Relief, ComfiHips, Muscle Aid Tape, Compex FIXX, TENS and like units do not qualify for the 30 Day Money Back Guarantee.
iWalk, post-operative braces, DRYPro products, rigid ankle/foot immobilizers and shoulder immobilizers/slings are subject to a 5 day return policy from delivery.
Shipping - It's FREE
We offer FREE shipping in all directions! including your purchase, exchange, or return. No gimmicks, no hidden costs–It's always 100% FREE!
Our shipping policies are the best in the business, including FREE 5 to 7 business day and two low priced flat rate options FASTER 4 to 5 day shipping for only $10 and FASTEST 2 to 3 day shipping for only $14.
With our flat rate shipping options If we cannot get your order to you in the specified time frame, we will refund your shipping charge. Shipments to apartment buildings and PO Boxes are available, however, please provide an alternative address to expedite the shipping time. If we are unsure of your address, we will contact you via phone or email. Please note: if recipient is in a remote location, there may be a delay in shipping time due to Courier's ability to reach those areas. Please note, the $10 shipping charge is NOT refundable with returns under our return policy.
Orders placed before 2:00 pm EST Monday to Friday are usually shipped same day. Orders placed after 2:00 pm EST are considered the following days orders. The day you place your order is Day 0 (so it does not count as a business day towards the shipping timeline as per couriers' rules). You should also note, that in many cases, we are able to deliver the product to you faster than the stated timelines depending on the product you order and your location. Update emails are sent to you for each change in order status:
PROCESSING - order received
ENTERED - order submitted to the appropriate warehouse
PREPPED FOR SHIPMENT - stock verified and product is ready to be shipped.
COMPLETE - The item has shipped and tracking information has been emailed to you.
Returns - We Pay the Return Shipping!
Use it, try it, not happy? Returns are simple, even if you have worn the product, lost the packaging etc. Please send your request to returns@orthomed.ca for the returns department to begin the process.
If you have your order number or the name associated with the order, please provide it in your email so we can locate your order in our system. We ask that you please provide the original packaging, if possible, with your return. We understand how hard it is to keep all packaging and even opening packages without damaging them. Please place your item in a suitable shipment box to ship the item(s) back with our pre-paid return label. We will provide you with a free return shipping label to return the product back to us if you fit within our return policy guidelines.
Please note:
Custom Knee Braces, Bone Growth Stimulators, Cold Therapy Products, DRYPro Cast Relief, ComfiHips, Compex FIXX, TENS and like units do not qualify for the 30 Day Money Back Guarantee.
iWalk, DRYPro Products, Post-Operative Braces, Rigid Ankle/Foot Immobilizers and Shoulder Immobilizers/Slings are subject to a 5 day return policy from time of delivery.
Exchanges
OrthoMed is committed to a low risk online shopping experience.
If you have ordered the wrong size or product and require an exchange please email exchanges@orthomed.ca and let us make it right for you. We will quickly place a new order for you, and we are pleased to cover the shipping fees for the first exchange on your order.
Please note, if you have multiple exchanges on the same order you will be responsible for the shipping fees after the first complimentary exchange.
Warranty Concerns?
If you have a concern with any product or have warranty issues, please email us at warranty@orthomed.ca and once again we will handle everything for you. Simple, safe, and speedy. We will make it right.
Other Policies
Payment Methods
ALL PRICES ARE IN CANADIAN DOLLARS. We accept the following payment methods:
Credit Cards: American Express, Visa, MasterCard, Discover, and JCB.
Visa Debit and MasterCard Debit are also accepted payment options.
Apple Pay and PayPal
International Shipping
OrthoMed does not provide international shipping at this time.
Backordered Items
OrthoMed does its best to keep all items in stock but sometimes demand can exceed supply, and a product will be listed as backordered. Backordered products will be shipped as soon as possible and updates will be provided to you along the way.
Privacy Policy / Security
At OrthoMed, protecting the security and confidentiality of your data is a responsibility we take seriously. We will never disclose any personal information you provide such as name, address, phone number or email. In addition, your purchase history will never be revealed to any third parties.
Credit card information is never retained, and information provided is encrypted during transmission using Secure Socket Layer (SSL) software, so your data is always kept protected and secure at the highest level. This is our promise to you.