Aircast AirSelect Standard Walking Boot
The Standard walking boot offers a moderate level of support and Aircast's quality, effectiveness and comfort in an economical model.
The Aircast Airselect Standard walking boot offers a moderate level of support and Aircast's quality, effectiveness and comfort in an economical model. The main indications for the Standard are:

Stable fracture of foot/ankle/lower leg

Severe ankle sprain

Post-operative immobilization
The Standard has a durable, semi-rigid shell that supports the limb while providing protection. Housed within the shell are two adjustable distal aircells that provide compression and support the malleoli. SoftStrike technology absorbs and dissipates shock, while the light weight and lab-tested rocker sole combine to encourage a natural gait and a continuation of everyday activities.
Material Components
Shell: POLYPROPYLENE
Front Panel: High Density Polyethylene
Straps: NYLON
Inflation Pumps: Thermoplastic Polyurethane
Liner: NYLON/POLYURETHANE/POLYESTER (Outer/Foam/Inner mesh)
Binding: POLYESTER
Outer Sole/Insole: EVA/RUBBER
Selector dial: NYLON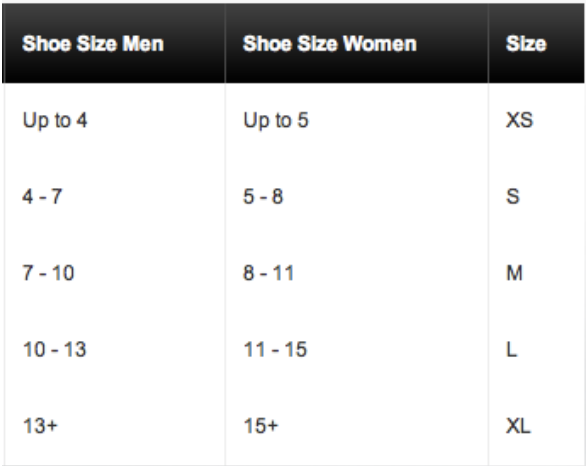 Features
Customizable, independent aircells (NO separate hand bulb)

- Integrated inflation system puts the patient in control for an individualized fit

Non-marking, skid resistant rubber tread
- For greater traction and longer wear
Removal of heel pain
- SoftStrike technology absorbs and dissipates the energy during heel strike
Low profile rocker sole
- The lab-designed rocker sole, enables a normal walking gait with less forefoot angulations' and reduces hyperextension of the knee
- Toe-off section continues the rocking motion, enhancing mobility
- Mid-stance section is designed to minimize hip differential
Custom and comfortable fit
- Trimmable and heat moldable semi-rigid shell makes it easy to custom-fit the brace to the patient
- Sleek, open-frame design provides ventilation and maximum patient protection and compliance
- Shell contours around the malleoli, eliminating pressure for sustained comfort
>> AirSelect boots have improved width around the ankle area as well as uniformed sizing throughout the various sizes of the boot (XS-XL)
Ease of application
- Three-strap system evenly disperses pressure, eliminates pooling of edema
- Integrated inflation system is intuitive and permits quick and easy customization of each aircell
ORTHOMED IS THE BEST IN THE BUSINESS!
We offer fast advice, quick shipping and easy no hassle returns. Shipping is free in all directions! including your purchase and returns. No gimmicks, no hidden costs – We make it easy!
Orders - Free Shipping
We are proud to offer FREE 5 to 7 business day ground shipping anywhere in Canada with no minimum purchase required. We always provide you with tracking information through a confirmation email and in addition, you can also login to your account 24/7 to see the status of your shipment.
Express Shipping
We are pleased to offer two low priced express shipping options, FASTER 4-5 business day shipping for only $10.00 and FASTEST 2-3 business day shipping for only $14.00. Order day is counted as day zero (courier's rules) This shipping charge is not refundable if items are returned for any reason. If we are unable to have your item delivered to you in the specified time frame we will refund your express shipping charge.
Returns – 30 day money back guarantee
Use it, try it, not happy? Returns are simple, even if you have worn the product, lost the packaging etc. we've got you covered. The best part, we offer two great options for return shipping: if you request a return within the first 10 days of receiving your product we pay the return shipping, after 10 days we offer a flat rate return shipping charge of only $10 plus HST. Just send a request to returns@orthomed.ca. If possible, try and have your original order number to reference. If you cannot find your order number, please provide the name the order was purchased under and we will locate you in our system. We will provide an email response the same business day.
** Exclusions**
We want all of our customers to be happy, over 99% of our products are covered by our industry leading money back guarantee. Due to health regulations, product design or use indications some exclusions apply;
iWalk 2.0, Rebound Crutches - 5 day return policy
Theratherm Moist Heat Pads - 5 day return policy
DRYPro Products - 5 day return policy
Rigid ankle / Foot immobilizers - 5 day return policy
Shoulder immobilizers / slings - 5 day return policy
Bone Growth Stimulators - non returnable
Cold Therapy products - non returnable
Tens and Like Units - non returnable
Showereez - non returnable
DRYPro Cast Relief - non returnable
ComfiHips - non returnable
Warranty Concerns?
If you have a concern with any product or have warranty issues, please email us at warranty@orthomed.ca and we will handle everything for you. Simple, convenient and speedy. We will make it right.
6 Months from date of purchase against manufacturing or material defects. Aircast does not warrant products for cosmetic deficiencies caused by regular use. 6 Month Warranty
Aircast Walking Boots
Aircast AirSelect Walker (Short)

The Short walking boot offers a solution to a number of indications related to the forefoot, mid-foot and hind foot injuries. It has a semi-rigid shell that helps support the leg while providing protection. The pre-inflated front panel and two adjustable aircells provide compression and support. SoftStrike technology absorbs and dissipates shock, while the light weight of the boot encourages a continuation of everyday activities.

Boot Height:

- X-Small - 9.1-inch

- Small - 9.5-inch

- Medium - 10.3-inch

- Large - 11.2-inch

- X-Large - 12.1-inch

Aircast AirSelect Walker (Standard)

The Standard walking boot offers a moderate level of support and Aircast's quality, effectiveness and comfort in an economical model. The main indications for the Standard are fracture of the foot/ankle/lower leg, severe ankle sprain and post-operative immobilization. It has a semi-rigid shell that helps support the leg while providing protection. SoftStrike technology absorbs and dissipates shock, while the light weight of the boot encourages a continuation of everyday activities.

Boot Height:

- X-Small - 13.6-inch

- Small - 14.8-inch

- Medium - 16-inch

- Large - 17.4-inch

- X-Large - 18.2-inch

Aircast AirSelect Walker (Elite)

The Elite is the most advanced walking boot, engineered to provide the ultimate in protection, comfort, and edema control. It offers a solution to a number or indications including fracture of the foot/ankle/lower leg, severe ankle sprain, post-operative immobilization and reduction of swelling. The Elite walking boot has a durable, semi-rigid shell that helps support the leg while providing protection. SoftStrike technology absorbs and dissipates shock while the light weight of the boot encourages a continuation of everyday activities.

Boot Height:

- X-Small - 13.6-inch

- Small - 14.8-inch

- Medium - 16-inch

- Large - 17.4-inch

- X-Large - 18.2-inch