The New Bauerfeind GenuTrain
If your knee feels weak, is swollen or painful, the GenuTrain knee brace can help you. It relieves pain, stabilizes the joint and helps to achieve faster mobilization. This new model is 19% lighter in weight and latex free!
Pain relief and stability for the knee joint
The Bauerfeind GenuTrain active support consists of an anatomically contoured knit and an integral, ring-shaped, functional visco-elastic cushion, the Omega pad. It relieves pain by providing the therapeutic pressure of the support from the kneecap to the soft tissues of the knee. Two nubs on the lower edge of the pad, the Hoffa pads, exert pressure on the infrapatellar fat pad, thereby also increasing relief for the kneecap and enhancing the pain-relieving effect. Lateral wings extend into the joint space of the knee, providing targeted pain relief at the meniscus in this sensitive area.
When walking or running with the GenuTrain, the muscular contractions cause the pressure to rise and fall, thereby resulting in an effect which is similar to an intermittent compression massage. This stimulates the metabolism and helps to dispel swelling and hematomas more quickly. The support also stimulates receptors in the soft tissue of the knee and on the skin. The surrounding musculature is also activated and effective, long-term stabilization for the joint is achieved.
Further improvements have been made to the brace, with the result that it is now better than ever at relieving pain and stabilizing the joint.
The Perfect Combination of Shape and Function
The material and shape of the GenuTrain orthopedic braces have an ingenious functional design for optimal effect and a high level of wearing comfort. The breathable, skin-friendly knit adapts to your every movement, without irritation or slipping. The material is far softer and more elastic in the sensitive flexion area of the hollow of the knee, and at the edges of the brace. Flexible semi-rigid plastic at the sides make sure that the brace does not lose its shape during movement, while integrated donning and doffing aids make the braces easy to put on and pull off with little effort.
Indications for use:
Irritation (tendomyopathy, ligament insertion degeneration, meniscopathy, osteoarthritis, arthritis, post-traumatic and post-operative)
Recurrent joint effusions
Feeling of instability
Knee strains or sprains
Recurrent knee pain
Pre and post-operative knee swelling and inflammation
Adolescent knee pain
Osgood-Schlatter´s disease
Degenerative joint disease (osteoarthritis)
Features:
pain relief
secure hold for the knee joint
pressure relief for the kneecap and reduction in pain at the meniscus
anatomical fit and integrated donning aid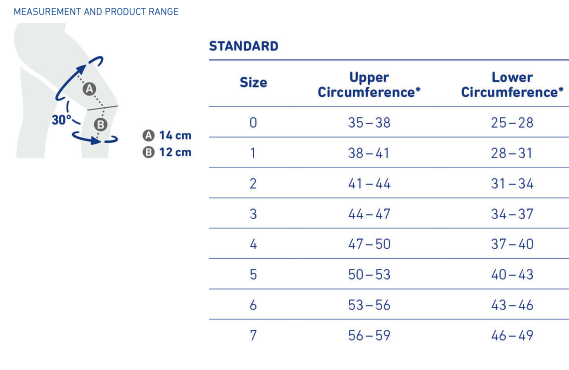 ORTHOMED IS THE BEST IN THE BUSINESS!
We offer FREE shipping in all directions! purchase, exchange or return. No gimmicks, no hidden costs–It's always 100% FREE!
We are proud to offer fast, FREE shipping anywhere in Canada with no minimum purchase required. We always provide you with tracking information through a confirmation email and in addition, you can also login to your account 24/7 to see the status of your shipment.
Exchanges – FREE Shipping!
OrthoMed is committed to a no risk online shopping experience. If you have ordered the wrong size or product and require an exchange please email exchanges@orthomed.ca and let us make it right for you. We will quickly place a new order for you, and we are pleased to cover the shipping fees for the first exchange on your order. Please note if you have multiple exchanges on the same order you will be responsible for the shipping fees after the first complimentary exchange.
Warranty Concerns?
As always, 100% FREE shipping. If you have a concern with any product or have warranty issues, please email us at warranty@orthomed.ca and once again we will handle everything for you. Simple, convenient and speedy. We will make it right.
Returns – 30 day money back guarantee – FREE Shipping! **See exclusions below**
Use it, try it, not happy? Your money back. Within 30 days returns are simple. Just send a request to returns@orthomed.ca. If possible, try and have your original order number to reference. If you cannot find your order number, please provide the name the order was purchased under and we will locate you in our system. We will provide an email response the same business day.
** Exclusions**
We want all of our customers to be happy, over 99% of our products are covered by our industry leading money back guarantee. Due to health regulations, product design or use indications some exclusions apply;
iWalk 2.0, Rebound Crutches - 5 day return policy
Theratherm Moist Heat Pads - 5 day return policy
DRYPro Products - 5 day return policy
Rigid ankle / Foot immobilizers - 5 day return policy
Shoulder immobilizers / slings - 5 day return policy
Bone Growth Stimulators - non returnable
Cold Therapy products - non returnable
Tens and Like Units - non returnable
Showereez - non returnable
DRYPro Cast Relief - non returnable
ComfiHips - non returnable
Express Shipping
We are pleased to offer two low priced express shipping options, FASTER 4-5 business day shipping for only $10.00 and FASTEST 2-3 business day shipping for only $14.00. Order day is counted as day zero (courier's rules) This shipping charge is not refundable if items are returned for any reason. If we are unable to have your item delivered to you in the specified time frame we will refund your express shipping charge.