Bauerfeind GenuTrain P3 relieves pain caused by misalignment of the kneecap (patellar lateralization), anterior knee pain ( PFS - patellofemoral pain syndrome) or pain associated with patellar tip syndrome.
Active support for improved patellar tracking
Bauerfeind GenuTrain P3 relieves pain caused by misalignment of the kneecap (patellar lateralization), anterior knee pain (patellofemoral pain syndrome) or pain associated with patellar tip syndrome. The active support, with its two integral massage pads and an adjustable corrective strap, holds the kneecap securely in a natural, central position, activates the musculature and thus speeds up the healing process.
Secure kneecap guidance
Relieves knee pain
Stabilizes the knee joint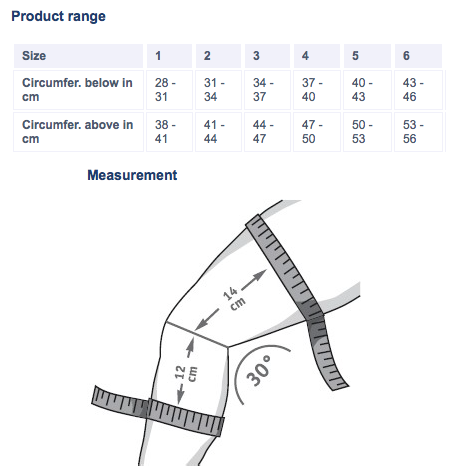 ORTHOMED IS THE BEST IN THE BUSINESS!
We offer FREE shipping in all directions! purchase, exchange or return. No gimmicks, no hidden costs–It's always 100% FREE!
We are proud to offer fast, FREE shipping anywhere in Canada with no minimum purchase required. We always provide you with tracking information through a confirmation email and in addition, you can also login to your account 24/7 to see the status of your shipment.
Exchanges – FREE Shipping!
OrthoMed is committed to a no risk online shopping experience. If you have ordered the wrong size or product and require an exchange please email exchanges@orthomed.ca and let us make it right for you. We are pleased to cover the shipping fees for the first exchange on your order. Please note if you have multiple exchanges on the same order you will be responsible for the shipping fees after the first complimentary exchange.
Warranty Concerns?
As always, 100% FREE shipping. If you have a concern with any product or have warranty issues, please email us at warranty@orthomed.ca and once again we will handle everything for you. Simple, convenient and speedy. We will make it right.
Returns – 30 day money back guarantee – FREE Shipping! **See exclusions below**
Use it, try it, not happy? Your money back. Within 30 days returns are simple. Just send a request to returns@orthomed.ca. If possible, try and have your original order number to reference. If you cannot find your order number, please provide the name the order was purchased under and we will locate you in our system. We will provide an email response the same business day.
** Exclusions**
We want all of our customers to be happy, over 99% of our products are covered by our industry leading money back gaurantee. Due to health regulations, product design or use indications some exclusions apply;
iWalk 2.0, Rebound Crutches - 5 day return policy
Theratherm Moist Heat Pads - 5 day return policy
DRYPro Products - 5 day return policy
Rigid ankle / Foot immobilizers - 5 day return policy
Shoulder immobilizers / slings - 5 day return policy
Bone Growth Stimulators - non returnable
Cold Therapy products - non returnable
Tens and Like Units - non returnable
Showereez - non returnable
DRYPro Cast Relief - non returnable
ComfiHips - non returnable
Express Shipping
We are pleased to offer 2-3 business day shipping for only $10.00. Order day is counted as day zero ( courier's rules ) This shipping charge is not refundable if items are returned for any reason. If we are unable to have your item delivered to you on or before the 3rd business day we will refund your express shipping charge.
Indications
Patellofemoral pain syndrome (chondropathy, chondromalacia)
Patellar tip syndrome (patellar tendonitis)
Lateralization of the patella (dislocation tendency)
High-riding patella (patella alta)
Feeling of instability
Anterior knee pain
After lateral release surgery
Getting the kneecap under control
P3 stands for "permanent patella protection" - because the GenuTrain P3 protects the patella (kneecap) securely during every movement. The kneecap is centered using a specially shaped massage pad with high sides and inward-facing silicone dots for exerting pain-relieving compression on Hoffa's fat pad. An adjustable corrective strap helps to protect the kneecap from drifting sideways and can be tightened to various degrees depending on the loading situation. A second wedge-shaped massage pad at the upper outside edge of the support slightly eases the pressure on the tendons connected to the kneecap, thus minimizing the outward pull. This provides relief for the kneecap and support during its natural movement. The support's compressive knit and two pads exert a pain-relieving massage effect during movement, which helps to reduce swelling more quickly and activates the muscles that stabilize the joint.
Training goal: regeneration
The GenuTrain P3 is ideal for use in sport, as athletes in particular tend to suffer from knee pain, especially in the patellar area, as a result of twisting or direct impacts. The active support shortens the regeneration period, provides protection against overloading and secondary injuries, and enables training to be resumed more quickly. Thanks to the exceptional elasticity of the knit, the support adapts perfectly to the shape of the knee and does not restrict mobility. Breathable materials and reduced pressure at the edges ensure that the support feels pleasant to wear.