Bauerfeind GenuTrain S Pro Knee Brace
GenuTrain S Pro active supports have adjustable hinges. Together with two inelastic straps on the upper and lower leg, they keep the knee joint secure during movement.
Secure freedom of movement
The anatomically contoured joint splints on the Bauerfeind GenuTrain S Pro can be individually adjusted by an orthotist / medical supply retailer and their range of movement can be restricted. By adjusting the hinge, the flexion angle of the knee can be limited to 30°, 60° or 90°. The knee can also be prevented from stretching to its full extent by locking the hinge at 20°. These restrictions are designed to protect the knee and can be lifted in line with the progress of treatment. Together with two inelastic straps on the upper and lower leg, the joint splints provide secure support and relieve the collateral ligaments. The knee is guided during movement and its freedom of movement is kept within safe limits. Wearing this support can thus compensate for any mild to moderate instability, for example due to osteoarthritis of the knee, while providing optimum stability for ligaments weakened by arthritis.
Activation of sensorimotor processes
The integrated elastic pressure cushion (pad) wraps around the kneecap to protect it and helps to position the support correctly. During movement, a massage effect is generated by the distortion of the pad and the compressing knit, which activates the surrounding muscles and stimulates circulation. This helps to relieve pain and reduce swelling more quickly. The support also activates sensorimotor processes which improve muscle control. As well as providing passive stabilization for the knee, it therefore provides more active support too.
Stabilizes the knee joint and activates the muscles
the combination of splints and straps provides secure support
the flexion and extension angle of the leg can be restricted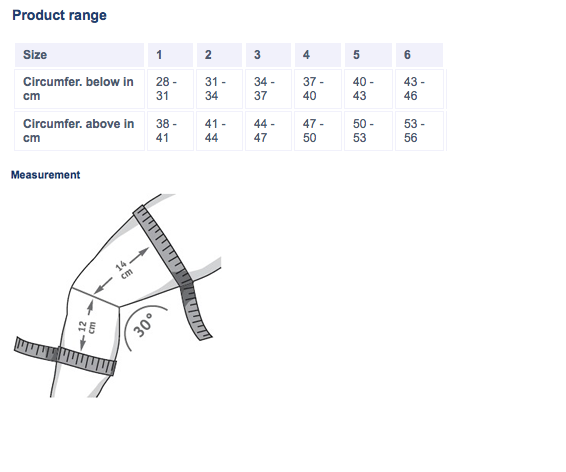 Indications
Mild to moderate instability
Osteoarthritis of the knee
Arthritis (e.g. primary chronic polyarthritis)
Meniscus injuries
Features
• New knitting concept: particularly stretchy, breathable and moisture wicking for excellent wearing comfort especially in the popliteal area.
• The sidebars are additionally secured with circular, inelastic straps.
• Special knitting techniques make the support extremely comfortable to wear, including behind the knee.
• The anatomically shaped bars can be heated and reshaped and are inserted in lateral guide channels.
• A circular viscoelastic insert surrounds the patella and facilitates correct positioning of the support.
Mode of action
• The combination of joint bars and a strap system provides added passive support to the knee.
• The positive effect on the sensorimotor system provides added active support to the knee.
• Knee activity moves the padded ring, thereby massaging the parapatellar soft tissue structures.
• The compression and massage effects accelerate the reabsorption of edema and effusions.
ORTHOMED IS THE BEST IN THE BUSINESS!
We offer fast advice, quick shipping and easy no hassle returns. Shipping is free in all directions! including your purchase and returns. No gimmicks, no hidden costs – We make it easy!
Orders - Free Shipping
We are proud to offer FREE 5 to 7 business day ground shipping anywhere in Canada with no minimum purchase required. We always provide you with tracking information through a confirmation email and in addition, you can also login to your account 24/7 to see the status of your shipment.
Express Shipping
We are pleased to offer two low priced express shipping options, FASTER 4-5 business day shipping for only $10.00 and FASTEST 2-3 business day shipping for only $14.00. Order day is counted as day zero (courier's rules). This shipping charge is not refundable if items are returned for any reason. If we are unable to have your item delivered to you in the specified time frame we will refund your express shipping charge.
Returns – 30 day money back guarantee
Use it, try it, not happy? Returns are simple, even if you have worn the product, lost the packaging etc. we've got you covered. The best part, we offer two great options for return shipping: if you request a return within the first 10 days of receiving your product we pay the return shipping, after 10 days we offer a flat rate return shipping charge of only $10 plus HST. Just send a request to returns@orthomed.ca. If possible, try and have your original order number to reference. If you cannot find your order number, please provide the name the order was purchased under and we will locate you in our system. We will provide an email response the same business day.
** Exclusions**
We want all of our customers to be happy, that's why over 90% of our products are covered by our industry leading money back guarantee. Due to health regulations, product design or use indications some exclusions apply;
iWalk 2.0, Rebound Crutches - 5 day return policy
Theratherm Moist Heat Pads - 5 day return policy
DRYPro Products - 5 day return policy
Rigid ankle / Foot immobilizers - 5 day return policy
Shoulder immobilizers / slings - 5 day return policy
Bone Growth Stimulators - non returnable
Cold Therapy products - non returnable
TENS and Like Units/Accessories - non returnable
Showereez - non returnable
Custom braces - non returnable
DRYPro Cast Relief - non returnable
ComfiHips - non returnable
Warranty Concerns?
If you have a concern with any product or have warranty issues, please email us at warranty@orthomed.ca and we will handle everything for you. Simple, convenient and speedy. We will make it right.