Bauerfeind MalleoLoc Ankle Brace
Stabilizing orthosis for stabilization of the ankle.
MalleoLoc is an anatomically self-shaping stabilizing orthosis that can be used in the immediate care and treatment of ankle injuries. After serious twisting injuries, torn ligaments and capsular ligament strains, it stabilizes the ankle and protects it from lateral twisting. The normal heel-to-toe movement of the foot is still possible and the support can be worn therapeutically without a shoe.
Features:
Anatomically self-shaping
Low-fatigue cushioning
stimulates the tibialis anterior muscle
STABILITY OF THE ANKLE-BONE
The MalleoLoc stabilizing orthosis is anatomically contoured to conform to the outside edge of the foot and includes a strap system. It fits snugly on the foot and passes forwards along the side of the joint and then underneath the sole, leaving the heel free. It thus counteracts both talar shift and lateral twisting of the foot. The musculature of the ankle is actively stabilized. As well as acute care, this orthosis can be thermoplastically shaped to the individual anatomy of the foot and used for stabilization in chronic cases of ligament weakness.
STIMULATING EFFECT ON THE TIBIALIS ANTERIOR MUSCLE
Under the sole on the outer edge of the foot there is a tongue-shaped protrusion, which stimulates the musculature, and in particular the tibialis anterior, thus reinforcing the stabilizing and mobilizing effects of the orthosis. This firstly provides effective protection against further injuries, and secondly means that the MalleoLoc can also be successfully used as part of the early functional treatment of capsular ligament strain and outer malleolus ligament injuries.
COMFORTABLE IN EVERYDAY LIFE
MalleoLoc fits snugly on the foot and can be worn without difficulty in almost any sturdy shoe. It retains its therapeutic effectiveness even without a shoe and protects against lateral twisting movements. The clip mechanism of the Velcro® strap system reinforces the tensile force and makes it easier to put on. The special low-fatigue cushioning increases wearing comfort.
Indications for Use:
Early functional treatment for injuries of the lateral malleolar ligaments (and the bifurcate ligaments)
Capsular ligament strains
Postoperative rehabilitation
Chronic ligament insufficiency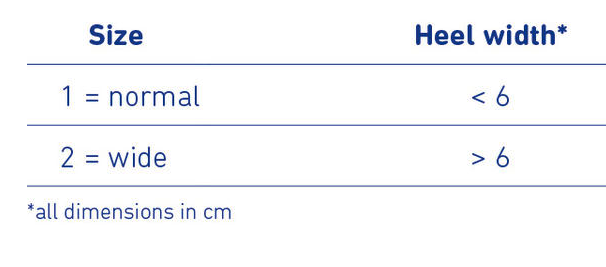 Measure heel width and compare to the following chart to determine size.
ORTHOMED IS THE BEST IN THE BUSINESS!
We offer fast advice, quick shipping and easy no hassle returns. Shipping is free in all directions! including your purchase and returns. No gimmicks, no hidden costs – We make it easy!
Orders - Free Shipping
We are proud to offer FREE 5 to 7 business day ground shipping anywhere in Canada with no minimum purchase required. We always provide you with tracking information through a confirmation email and in addition, you can also login to your account 24/7 to see the status of your shipment.
Express Shipping
We are pleased to offer two low priced express shipping options, FASTER 4-5 business day shipping for only $10.00 and FASTEST 2-3 business day shipping for only $14.00. Order day is counted as day zero (courier's rules). This shipping charge is not refundable if items are returned for any reason. If we are unable to have your item delivered to you in the specified time frame we will refund your express shipping charge.
Returns – 30 day money back guarantee
Use it, try it, not happy? Returns are simple, even if you have worn the product, lost the packaging etc. we've got you covered. The best part, we offer two great options for return shipping: if you request a return within the first 10 days of receiving your product we pay the return shipping, after 10 days we offer a flat rate return shipping charge of only $10 plus HST. Just send a request to returns@orthomed.ca. If possible, try and have your original order number to reference. If you cannot find your order number, please provide the name the order was purchased under and we will locate you in our system. We will provide an email response the same business day.
** Exclusions**
We want all of our customers to be happy, that's why over 90% of our products are covered by our industry leading money back guarantee. Due to health regulations, product design or use indications some exclusions apply;
iWalk 2.0, Rebound Crutches - 5 day return policy
Theratherm Moist Heat Pads - 5 day return policy
DRYPro Products - 5 day return policy
Rigid ankle / Foot immobilizers - 5 day return policy
Shoulder immobilizers / slings - 5 day return policy
Bone Growth Stimulators - non returnable
Cold Therapy products - non returnable
TENS and Like Units/Accessories - non returnable
Showereez - non returnable
Custom braces - non returnable
DRYPro Cast Relief - non returnable
ComfiHips - non returnable
Warranty Concerns?
If you have a concern with any product or have warranty issues, please email us at warranty@orthomed.ca and we will handle everything for you. Simple, convenient and speedy. We will make it right.