Bauerfeind MalleoLoc L3 Ankle Brace
Adjustable orthosis for one-sided stabilization of the ankle.
Orthoses help to protect an unstable ankle from excessive strain.
Orthoses help to protect an unstable ankle from excessive strain. The MalleoLoc L3 orthosis can be adapted for multi-stage treatment and patients with chronic conditions: its stabilizing protection can be adjusted in three steps depending on the progress of the treatment or individual requirements. Using an L shell and securing straps, it stabilizes at the outside of the ankle. In addition, a muscle-activating compression support is integrated. The shell and straps can be removed easily. The MalleoLoc L3 provides secure support and fits in narrow everyday shoes, thanks to its slim design.
Features:
Stabilizes at the outside of the ankle after injuries and in the event of ligament weakness
Combines shell, straps and support for adjustable stabilization
Ensures secure support in the shoe during everyday activities
Slim fit for sports and business shoes
MalleoLoc L3 - Slim Fit Orthosis for Multi-Stage Treatment of the Ankle
During everyday movements and minor sporting activities, the MalleoLoc L3 protects the unstable ankle and prevents recurring sprains. Its special feature: the orthosis can be adjusted in its protective function, meaning it can supplement multi-stage treatment or support patients with chronic conditions who sometimes need more, sometimes less stabilization. Since its plastic shell is positioned exclusively on the side of the lateral malleolus (side of the ankle facing away from the body), it is particularly slim. Therefore, the orthosis fits in narrow shoes.
Three Stabilizing Elements - Three Treatement Solutions
The MalleoLoc L3 combines a one-sided stabilizing shell and straps with a muscle-activating compression support. The anatomically shaped L shell is positioned on the lower leg above the support, sitting in front of the lateral malleolus, and extending slightly across the instep. It is fastened at the lower leg and the foot using two non-elastic Velcro straps. This means the orthosis protects the ankle from incorrect movements which may cause recurring sprains. The foot's natural heel-to-toe movement is supported. If the need for stabilization reduces, the shell can be removed first, and the lower strap can be attached to the support. The strap provides an additional protection against spraining. Without strap, the support offers indirect stabilization due to its massage effect during movement. In addition to reduce swelling, it activates the muscles, and contributes to better coordination.
Slim Fit for Daily Use
The MalleoLoc L3 must be worn in shoes to stabilize the ankle. The integrated support and the shell fitted on one side are anatomically shaped. Together, they are so slim that the orthosis fits in sports shoes and even business shoes. The inside of the shell is soft and comfortably padded, and features an easy-care microfiber top cover.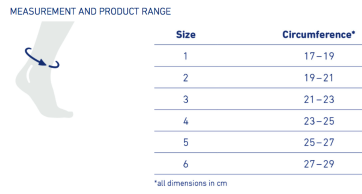 Measure around the ankle just above the ankle bone and compare to the following chart to determine size.
ORTHOMED IS THE BEST IN THE BUSINESS!
We offer fast advice, quick shipping, easy exchanges and no hassle returns. Shipping is free on orders of $150 or more. We also offer free shipping on exchanges or returns. No gimmicks, no hidden costs – We make it easy!
Orders Shipping
We are proud to offer FREE 7 to 9 business day ground shipping anywhere in Canada on orders of $150 or more. We always provide you with tracking information through a confirmation email and in addition, you can also login to your account 24/7 to see the status of your shipment.
Express Shipping
We also offer two low priced express shipping options, FAST 3 to 7 business day shipping for only $8.99 and FASTER 1 to 3 business day shipping for only $15.99. Order day is counted as day zero (courier's rules). This shipping charge is not refundable if items are returned for any reason. If we are unable to have your item delivered to you in the specified time frame we will refund your express shipping charge.
Exchanges - We Pay the Shipping
OrthoMed is committed to a low-risk online shopping experience. If you need a different size or want to exchange for a different product, we've got you covered. We pay the return shipping fees for your exchange, and best of all, with our Advice Included model our team is standing by to help you figure out what product would be best for you. If you require an exchange, please email exchanges@orthomed.ca and let us make it right for you. We will quickly place a new order for you, and we will send you a pre-paid shipping label by email to cover the shipping fees. Please note we cover the shipping fees for the first exchange on your order when you request an exchange within the first 10 days of receiving your product. After 10 days we offer a flat rate return shipping charge of only $10 plus HST. Also note, if you have multiple exchanges on the same order, you will be responsible for the shipping fees after the first complimentary exchange.
Returns – 30 day money back guarantee
Use it, try it, not happy? Returns are simple, even if you have worn the product, we've got you covered. The best part, we offer two great options for return shipping: if you request a return within the first 10 days of receiving your product we pay the return shipping, after 10 days we offer a flat rate return shipping charge of only $10 plus HST. Just send a request to returns@orthomed.ca. If possible, try and have your original order number to reference. If you cannot find your order number, please provide the name the order was purchased under and we will locate you in our system. We will provide an email response the same business day. Please return all packaging and instructions and place your item in a suitable shipment box with our pre-paid return label to receive your full refund.
** Exclusions**
We want all of our customers to be happy, that's why over 90% of our products are covered by our industry leading money back guarantee. Due to health regulations, product design or use indications some exclusions apply;
iWalk 2.0, Rebound Crutches - 5 day return policy
Theratherm Moist Heat Pads - 5 day return policy
DRYPro Products - 5 day return policy
Rigid ankle / Foot immobilizers - 5 day return policy
Shoulder immobilizers / slings - 5 day return policy
Bone Growth Stimulators - non returnable
Cold Therapy products - non returnable
TENS and Like Units/Accessories - non returnable
Showereez - non returnable
Custom braces - non returnable
DRYPro Cast Relief - non returnable
ComfiHips - non returnable
Warranty Concerns?
If you have a concern with any product or have warranty issues, please email us at warranty@orthomed.ca and we will handle everything for you. Simple, convenient and speedy. We will make it right.
Indications for Use:
Conservative treatment of ankle sprains and ligament ruptures
Acute and chronic capsular ligament instabilities
Prevention of chronic ligament instability
Inflammatory and degenerative functional impairments