Bauerfeind MyoTrain Thigh Brace
The MyoTrain thigh brace is an enhanced alternative to taping and relieves pain from muscle fiber tears, pulls or bruising.
Stability and comfort
MyoTrain braces use a combination of breathable knit material, a strap system and two viscoelastic cushioned pads to provide pain relief, reduce swelling and accelerate the healing process. The viscoelastic cushioned pads are removable, and can be placed to the location of pain for increased compression and relief. The knit material is soft and comfortable but the special stretch fabric is also strong and stabilizes the thigh. As a fast, effective alternative to taping, MyoTrain supports have Velcro® straps that make it easy to put on and take off quickly. Using these straps, you can adjust the level of compression based on your needs.
Effective injury assistance
MyoTrain braces have two custom soft pads that provide targeted gentle pressure on the injured area, reduce swelling and improve circulation. As your injury heals, the pads can be removed and the support worn without them.
Move freely and heal faster
If you've had a thigh or hamstring injury, the MyoTrain thigh brace will help you reduce pain and be comfortable and able to move on with your day.
Components
Siliconized edge (inner) - Remains securely in position, even during movement
Soft knit fabric - Breathable knit is comfortable to wear, gentle on your skin and keeps moisture away from the body
Velcro strapping - Lets you adjust the level of compression and put the brace on and take it off quickly and easily
Removable acute pad - Applies targeted gentle compression to the affected area. Wear the support with or without the pad
Pressure-reducing edges - Ensures an optimal - and comfortable - fit without constricting your movement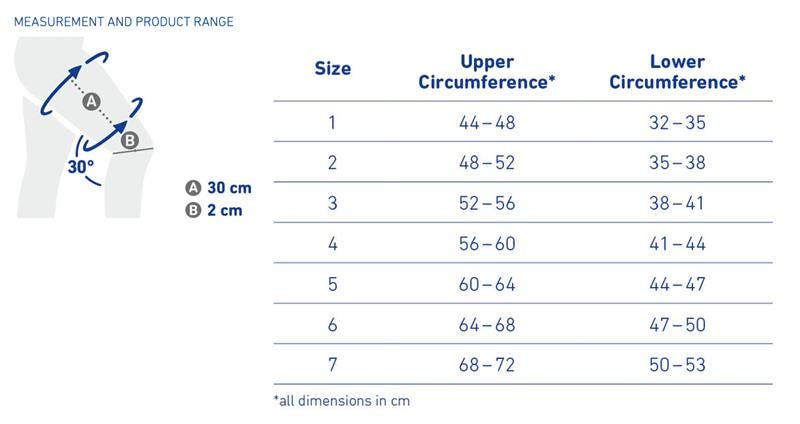 Treatment of
Thigh strain
Quadriceps strain
Quadriceps pull
Quadricep muscle bruises
Hamstring muscle bruises
Hamstring pull
Hamstring strain
Prevents repetitive injuries
Reduces edema
ORTHOMED IS THE BEST IN THE BUSINESS!
We offer fast advice, quick shipping and easy no hassle returns. Shipping is free in all directions! including your purchase and returns. No gimmicks, no hidden costs – We make it easy!
Orders - Free Shipping
We are proud to offer FREE 5 to 7 business day ground shipping anywhere in Canada with no minimum purchase required. We always provide you with tracking information through a confirmation email and in addition, you can also login to your account 24/7 to see the status of your shipment.
Express Shipping
We are pleased to offer two low priced express shipping options, FASTER 4-5 business day shipping for only $10.00 and FASTEST 2-3 business day shipping for only $14.00. Order day is counted as day zero (courier's rules) This shipping charge is not refundable if items are returned for any reason. If we are unable to have your item delivered to you in the specified time frame we will refund your express shipping charge.
Returns – 30 day money back guarantee
Use it, try it, not happy? Returns are simple, even if you have worn the product, lost the packaging etc. we've got you covered. The best part, we offer two great options for return shipping: if you request a return within the first 10 days of receiving your product we pay the return shipping, after 10 days we offer a flat rate return shipping charge of only $10 plus HST. Just send a request to returns@orthomed.ca. If possible, try and have your original order number to reference. If you cannot find your order number, please provide the name the order was purchased under and we will locate you in our system. We will provide an email response the same business day.
** Exclusions**
We want all of our customers to be happy, over 99% of our products are covered by our industry leading money back guarantee. Due to health regulations, product design or use indications some exclusions apply;
iWalk 2.0, Rebound Crutches - 5 day return policy
Theratherm Moist Heat Pads - 5 day return policy
DRYPro Products - 5 day return policy
Rigid ankle / Foot immobilizers - 5 day return policy
Shoulder immobilizers / slings - 5 day return policy
Bone Growth Stimulators - non returnable
Cold Therapy products - non returnable
Tens and Like Units - non returnable
Showereez - non returnable
DRYPro Cast Relief - non returnable
ComfiHips - non returnable
Warranty Concerns?
If you have a concern with any product or have warranty issues, please email us at warranty@orthomed.ca and we will handle everything for you. Simple, convenient and speedy. We will make it right.
Care instructions
All Train active supports can be machine washed separately at 30°C with liquid detergent. Please note the following:
1. For products with Velcro® straps: remove the straps if possible, or fasten them securely in position.
2. If possible, also remove pads/inserts and their terrycloth covers before washing.
We recommend using a mesh bag (spin cycle: maximum of 500 revolutions per minute). Air dry your Train® active support. Do not dry it in a tumble-dryer because this can damage the knit.
Please wash your Train® active support regularly so that the compression qualities of the knit are retained.
Components
Siliconized edge (inner) - Remains securely in position, even during movement
Soft knit fabric - Breathable knit is comfortable to wear, gentle on your skin and keeps moisture away from the body
Velcro strapping - Lets you adjust the level of compression and put the brace on and take it off quickly and easily
Removable acute pad - Applies targeted gentle compression to the affected area. Wear the support with or without the pad
Pressure-reducing edges - Ensures an optimal - and comfortable - fit without constricting your movement