Bauerfeind OmoTrain stabilizes the shoulder joint and provides secure joint guidance during movement. Athletic shirt not included.
*Please call to confirm inventory*
The Bauerfeind OmoTrain Shoulder Support is uniquely designed to stabilize the shoulder joint without limiting movement. The OmoTrain brace features a breathable knit construction with hundreds of elastic fibers throughout to provide compression to help center the arm in the socket, and comes with an additional visco-elastic compression pad that can be positioned inside the support for a massage effect and added compression over the Acromioclavicular joint. The OmoTrain shoulder support is commonly used to treat rotator cuff tears, mild dislocations, shoulder tendonitis, and pain from osteoarthritis. The product's snug compression fit helps aid in reducing shoulder instability, and reduces muscle, joint and tendon pain more effectively than neoprene-style products. The shoulder support fits easily under clothes with soft straps that are easy to apply.
Bauerfeind OmoTrain Shoulder Support Features:
Knitted product design includes a removable, adjustable, anatomically contoured silicone insert for additional pain relief.
Unique design guides and centers the glenohumeral joint promoting mobility without limiting rotation.
Supports the muscles tendons, and ligaments of the joint, leading to increased circulation, thus aiding in reducing swelling and edema.
Allows full range of motion.
Anatomical soft knit and high elasticity maintain a proper fit.
Lightweight, breathable fabric will not retain heat.
Pressure-reduced edges optimize comfort and improves circulation.
Bauerfeind OmoTrain shoulder support features quality German made construction.
Universal - Can be worn on either shoulder.
Seven sizes - please see our sizing chart tab above for complete sizing instructions.
Machine washable.
Available Colors: Titanium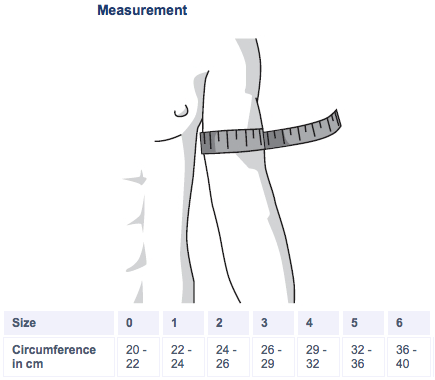 Size Is determined by loosely measuring the circumference of the upper arm, while the arm is hanging loosely, at the level 6" up the back of the arm from the elbow point
Indications
osteoarthritis
post-traumatic irritation
post-operative irritation
ORTHOMED IS THE BEST IN THE BUSINESS!
We offer FREE shipping in all directions! purchase, exchange or return. No gimmicks, no hidden costs–It's always 100% FREE!
We are proud to offer fast, FREE shipping anywhere in Canada with no minimum purchase required. We always provide you with tracking information through a confirmation email and in addition, you can also login to your account 24/7 to see the status of your shipment.
Exchanges – FREE Shipping!
OrthoMed is committed to a no risk online shopping experience. If you have ordered the wrong size or product and require an exchange please email exchanges@orthomed.ca and let us make it right for you. We will quickly place a new order for you, and we are pleased to cover the shipping fees for the first exchange on your order. Please note if you have multiple exchanges on the same order you will be responsible for the shipping fees after the first complimentary exchange.
Warranty Concerns?
As always, 100% FREE shipping. If you have a concern with any product or have warranty issues, please email us at warranty@orthomed.ca and once again we will handle everything for you. Simple, convenient and speedy. We will make it right.
Returns – 30 day money back guarantee – FREE Shipping! **See exclusions below**
Use it, try it, not happy? Your money back. Within 30 days returns are simple. Just send a request to returns@orthomed.ca. If possible, try and have your original order number to reference. If you cannot find your order number, please provide the name the order was purchased under and we will locate you in our system. We will provide an email response the same business day.
** Exclusions**
We want all of our customers to be happy, over 99% of our products are covered by our industry leading money back guarantee. Due to health regulations, product design or use indications some exclusions apply;
iWalk 2.0, Rebound Crutches - 5 day return policy
Theratherm Moist Heat Pads - 5 day return policy
DRYPro Products - 5 day return policy
Rigid ankle / Foot immobilizers - 5 day return policy
Shoulder immobilizers / slings - 5 day return policy
Bone Growth Stimulators - non returnable
Cold Therapy products - non returnable
Tens and Like Units - non returnable
Showereez - non returnable
DRYPro Cast Relief - non returnable
ComfiHips - non returnable
Express Shipping
We are pleased to offer two low priced express shipping options, FASTER 4-5 business day shipping for only $10.00 and FASTEST 2-3 business day shipping for only $14.00. Order day is counted as day zero (courier's rules) This shipping charge is not refundable if items are returned for any reason. If we are unable to have your item delivered to you in the specified time frame we will refund your express shipping charge.
Protection for the Shoulder
In conservative treatment for the shoulder, secure guidance of the injured joint and carefully controlled mobilization are often key factors for successful healing. It is therefore also important to relieve pain in order to encourage mobility. With its compression knit and the tensile effect exerted by its special strap system, the OmoTrain centers the shoulder joint and protects it against painful circular movements. However, it also provides support for other movements, such as the lateral lifting of the arm, in order to strengthen the musculature. The full pain-relieving effect of the support is produced during movement. During movement, the compression knit exerts a beneficial intermittent compression massage that activates the metabolism and helps to reduce swelling more quickly. The Delta pad increases this massage effect, thanks to its nubs and its joint-cavity ridge that have a targeted effect on specific pain spots. When necessary, the Delta pad can be attached into the support and positioned as required.
Supporting Movement
The support is easy to put on and take off thanks to its high elasticity, and it is secured to the upper body by means of a soft strap. The chest area is left free, so the support is particularly comfortable to wear. The OmoTrain is available as a universal version and can therefore be worn on either the left or the right. The breathable, anatomically contoured compression knit adapts to fit the shoulder perfectly and does not cause discomfort during movement. Support is therefore provided for the healing process, pain is reduced and mobility improved.