Bauerfeind Performance Compression Socks (pair)
The Sports Compression Sock Run and Walk incorporates medical standard compression to improve endurance and speed up recovery times. Sold in pairs.
The revitalizing sports sock for endurance sports
The Sports Compression Sock Run and Walk incorporates medical standard compression to improve endurance and speed up recovery times. The continuous compression promotes venous return, and as the blood supply to the muscles improves over long distances, you experience increased performance as a result.
Running made easy!
The Bauerfeind compression sock performance exerts noticeabl compression on the leg that complies with medical standards (Ccl 1) and effectively improves circulation. This ensures an optimal blood supply to the muscles nad helps them perform for longer, aprticularly in endurance disciplines such as cycling or marathons.
The result: more energy reserves for long distances and quicker regeneration.
Material Content
Ccl 1 75% polyamid
25% elastane
Medical standard compression levels
Medical grade compression decreases gradually from ankle to calf to promote circulation and improve transfer of oxygen to increase endurance and reduce premature fatigue.
More Control
The products in the sprots range use muscle and joint stabilizing features to provide you with more contrrol when jogging, especially for long periods of time or on uneven stretches.
Reduction in muscle vibration
The compression, in combination with the microfiber knit, reduces typical muscle vibrations to help counter premature fatigue.
Comfortable, durable and washable
The Sports Socks feel lightweight and comfortable on the skin, and also provide temperature and moisture regulating effects. These durable socks may also be machine washed and tumble dried.
Special zones
The soles and instep are lightly padded and a cut out in the sensitive area of the Achilles tendon prevents unwanted pressure points and friction.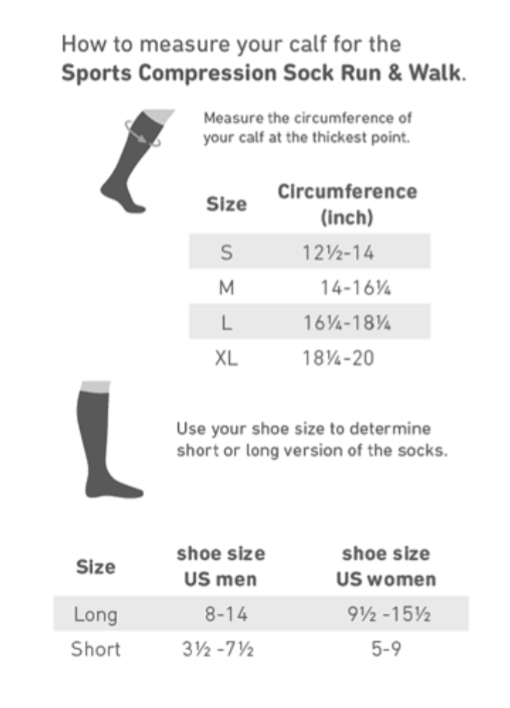 ORTHOMED IS THE BEST IN THE BUSINESS!
We offer FREE shipping in all directions! purchase, exchange or return. No gimmicks, no hidden costs–It's always 100% FREE!
We are proud to offer fast, FREE shipping anywhere in Canada with no minimum purchase required. We always provide you with tracking information through a confirmation email and in addition, you can also login to your account 24/7 to see the status of your shipment.
Exchanges – FREE Shipping!
OrthoMed is committed to a no risk online shopping experience. If you have ordered the wrong size or product and require an exchange please email exchanges@orthomed.ca and let us make it right for you. We are pleased to cover the shipping fees for the first exchange on your order. Please note if you have multiple exchanges on the same order you will be responsible for the shipping fees after the first complimentary exchange.
Warranty Concerns?
As always, 100% FREE shipping. If you have a concern with any product or have warranty issues, please email us at warranty@orthomed.ca and once again we will handle everything for you. Simple, convenient and speedy. We will make it right.
Returns – 30 day money back guarantee – FREE Shipping! **See exclusions below**
Use it, try it, not happy? Your money back. Within 30 days returns are simple. Just send a request to returns@orthomed.ca. If possible, try and have your original order number to reference. If you cannot find your order number, please provide the name the order was purchased under and we will locate you in our system. We will provide an email response the same business day.
** Exclusions**
We want all of our customers to be happy, over 99% of our products are covered by our industry leading money back gaurantee. Due to health regulations, product design or use indications some exclusions apply;
iWalk 2.0, Rebound Crutches - 5 day return policy
Theratherm Moist Heat Pads - 5 day return policy
DRYPro Products - 5 day return policy
Rigid ankle / Foot immobilizers - 5 day return policy
Shoulder immobilizers / slings - 5 day return policy
Bone Growth Stimulators - non returnable
Cold Therapy products - non returnable
Tens and Like Units - non returnable
Showereez - non returnable
DRYPro Cast Relief - non returnable
ComfiHips - non returnable
Express Shipping
We are pleased to offer 2-3 business day shipping for only $10.00. Order day is counted as day zero ( courier's rules ) This shipping charge is not refundable if items are returned for any reason. If we are unable to have your item delivered to you on or before the 3rd business day we will refund your express shipping charge.
Indications for use:
Leg fatigue and swelling
Bettery endurance and quicker recovery times
Prophylatic use for reduction in DVT (blood clot) occurence