Bauerfeind SacroLoc Back Brace
Bauerfeind's SacroLoc back braces and supports stabilize the pelvis and lower back and delivers pain relief to the sacroiliac (SI Joint) and pelvis.
The SacroLoc® orthosis can provide the correct support for sacroiliac joint syndrome (SI joint syndrome) and pain. It stabilizes and relieves pressure on the pelvis and symphysis and, with its two-part visco-elastic cushion (pad), massages the sacroiliac joints. This stimulates circulation, thus helping the healing process.
Stabilizes and relieves pressure of SI joint and ligaments
Pain reduction due to circumferential force of strap system combined with massage pads
Specifically targets the sacroiliac joints
Can be individually adjusted with tensioning straps
Immediately perceptible stabilization of pelvis
New patented strap system to redirect from the outside to the inside of the hip support.
Alleviate back discomfort
Joint and muscle problems in the pelvis and lower back can cause extreme pain in the back and sacroiliac area. Bauerfeind's SacroLoc® braces and supports stabilize and relieve pressure where the pelvis and sacroiliac connect.
Massaging pain relief
With its two-part viscoelastic cushion pads, SacroLoc massages the trigger points around the sacroiliac joints, for soothing pain relief that also stimulates circulation, thus helping the healing process.
Comfortable and customizable
You can adjust the amount of gentle pressure you want using the tension straps. SacroLoc conforms to your body shape, so it's not particularly noticeable under clothing. Soft, breathable knit material ensures air can circulate to the skin for a cooling effect that keeps sweat away from your body.
Live pain free
Get the pain relief you need, with the stability and massage effect produced by SacroLoc braces and supports by Bauerfeind, so you can be more mobile. Sacroiliac joint dysfunction accounts for 25 % of all cases of back pain in the lumbar spine area. With SacroLoc, a combination of elastic and non-elastic knit stabilizes and relieves pressure on this zone, while a two-part pad on the back massages pain spots. This stimulates circulation at certain points, relieving cramps and helping to release tension.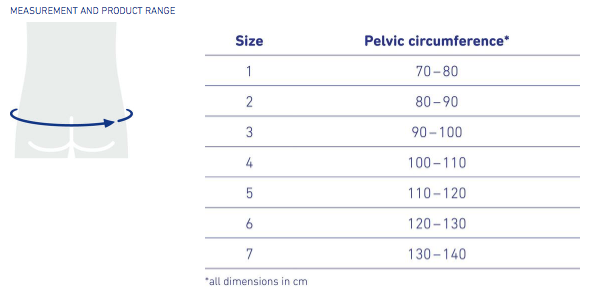 We recommend sizing up one size for this product type.
Bauerfeind SacroLoc Back Support is designed to provide pain relief from:
SI joint syndrome, arthrosis, instability, and blockage conditions.
Pelvic ring instability.
Symphysis pubis rupture injuries.
Pelvic alignment conditions resulting in chronic low back irritation and soreness.
ORTHOMED IS THE BEST IN THE BUSINESS!
We offer fast advice, quick shipping, easy exchanges and no hassle returns. Shipping is free on orders of $150 or more. We also offer free shipping on exchanges or returns. No gimmicks, no hidden costs – We make it easy!
Shipping, it's Fast
We offer two low priced express shipping options, FAST: 4 to 6 business days shipping for only $10.99 and FASTER: 1 to 4 business days shipping for only $16.99. Order day is counted as day zero (courier's rules). This shipping charge is not refundable if items are returned for any reason. If we are unable to have your item delivered to you in the specified time frame we will refund your express shipping charge.
We also offer FREE: 6 to 8 business days ground shipping anywhere in Canada on orders of $150 or more.
We always provide you with tracking information through a confirmation email and in addition, you can also login to your account 24/7 to see the status of your shipment.
Exchanges - We Pay the Return Shipping
OrthoMed is committed to a low-risk online shopping experience. If you need a different size or want to exchange for a different product, we've got you covered. We pay the return shipping fees for your exchange, and best of all, with our Advice Included model our team is standing by to help you figure out what product would be best for you. If you require an exchange, please email exchanges@orthomed.ca and let us make it right for you. We will quickly place a new order for you, and we will send you a pre-paid shipping label by email to cover the shipping fees. Please note we cover the return shipping fees for the first exchange on your order when you request an exchange within the first 10 days of receiving your product. After 10 days we offer a flat rate return shipping charge of only $14.99 plus HST. Also note, if you have multiple exchanges on the same order, you will be responsible for the shipping fees after the first complimentary exchange. Outbound shipping rates still apply.
Returns – 30 day money back guarantee
Use it, try it, not happy? Returns are simple, even if you have worn the product, we've got you covered. The best part, we offer two great options for return shipping: if you request a return within the first 10 days of receiving your product we pay the return shipping, after 10 days we offer a flat rate return shipping charge of only $14.99 plus HST. Just send a request to returns@orthomed.ca. If possible, try and have your original order number to reference. If you cannot find your order number, please provide the name the order was purchased under and we will locate you in our system. We will provide an email response the same business day.
Please place your item in a suitable shipment box to ship the item(s) back with our pre-paid return label (we suggest re-using the box that we shipped the items to you). The authorized items must be dropped off at Canada Post on or before the final day of return timeframe to be eligible for refund. We understand how hard it is to keep all packaging and even opening packages without damaging them, but we ask that you do your best to keep everything in good 'like new' condition. Please return all packaging and instructions with your return to receive a full refund. If the items are returned without the original packaging/instructions, or the item(s) were not put within a secondary box/protective packaging for shipment, a 10% restocking fee will be deducted from your refund. Please note, shipping fees are not refunded for returns if we successfully delivered the product to you in the stated timeframe.
Important note regarding insurance reimbursement: To deter against insurance fraud, it is our policy that if we provide a customer with documentation for the purpose of seeking insurance reimbursement, and the customer subsequently requests a refund (in whole or in part), we reserve the right to contact your insurer to verify the status of your reimbursement prior to processing your refund(s).
If we suspect that an individual is abusing our return and refund policies for any reason, a restocking fee of up to 25% may be deducted from the refund amount(s) in our sole discretion.
** Exclusions**
We want all of our customers to be happy, that's why over 90% of our products are covered by our industry leading money back guarantee. Due to health regulations, product design or use indications some exclusions apply;
iWalk 3.0 - 5 day return policy
Compression socks/stockings - 5 day return policy
DRYPro Products - 5 day return policy
Rigid ankle / Foot immobilizers - 5 day return policy
Shoulder immobilizers / slings - 5 day return policy
Barefoot Science Products - 5 day return policy
Post-operative braces and shoes - 5 day return policy
Bone Growth Stimulators - non-returnable
Cold Therapy products - non-returnable
COMPEX TENS, FIXX, AYRE and Like Units/Accessories - non-returnable
Custom braces - non-returnable
Custom ordered compression socks/stockings - non-returnable
DRYPro Cast Relief - non-returnable
ComfiHips - non-returnable
Hernia Brief/Boxer Products - non-returnable
Theratherm Moist Heat Pads - non-returnable
Muscle Aid and COMPEX Tape - non-returnable
Compression Sock Accessories - non-returnable
Warranty Concerns?
If you have a concern with any product or have warranty issues, please email us at warranty@orthomed.ca and we will handle everything for you. Simple, convenient and speedy. We will make it right.
Indications for Use:
SacroIliac (SI) joint syndrome
SI joint arthrosis
SI joint instability
SI joint blockage
Myalgia and tendonopathy in the pelvic region
Pelvic girdle instability
Symphysis ruptur and symphysis loosening
For prophylaxis for relapsing SI joint blockages and myotendopathia (m. rectus abdominis, m. piriformis adductor)
Strucural disturbance following lunch spinal spondylodeses
Features:
Helps provide sacroiliac (SI joint) and pelvis pain relief
Breathable mesh material for all day comfort. Prevents pinching and constricting, prevents orthosis from sliding up (ensures position stability)
Adjustable tension straps deliver right amount of compression
Compresses pelvis
Closed via abdominal fastener by velcro
Donning aids (hand straps) for easy handling