Bauerfeind ViscoSpot Heel Cushion
Viscoelastic heel cushions for the treatment of heel spurs.
The softly cushioning ViscoSpot heel cushion immediately relieves chronic heel and ankle pain, especially heel spurs and tarsal bone pain. It acts as a shock absorber in the shoe and protects the foot from overloading with every step. Three zones offer pressure relief and help to distribute pressure evenly when walking. They are connected together in a wave shape and interlock directly with one another. ViscoSpot heel cushions are anatomically contoured and therefore fit each foot.
Features:
Soft cushioning in three zones
Anatomical fit
Gentle on skin
A Shock Absorber for the Heel
If chronic heel and ankle pain goes untreated, the pain can spread to the knee, hip and spine. ViscoSpot acts as a shock absorber and protects the joints with every step. The anatomically contoured heel cushions relieve stress with the aid of three zones made of material with different levels of firmness.
The innermost zone is the white spot – a particularly soft zone that absorbs pressure at the root of the pain, the sensitive region directly around the heel spur. The blue zone around the white spot is somewhat firmer and relieves the tendon i
nsertion on the sole of the foot. This helps to ease irritation or inflammation more quickly. The firm grey zone around the outside gently guides the hindfoot when taking steps and softly supports it during heel-to-toe movements. This promotes natural running and walking gaits without inappropriate mechanical stress. The transitions between the three pressure relief zones are very smooth thanks to a special wave-shaped connection (PowerWave) and cannot be felt on the heel.
Durable and Gentle on Skin
Only a few heel cushions can withstand daily use over long periods. ViscoSpot is made of high-quality silicone that is gentle on your skin, easy to clean and, thanks to modern production techniques, particularly durable. It sits under the heel with every step, without slipping.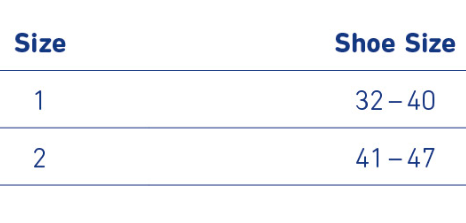 ORTHOMED IS THE BEST IN THE BUSINESS!
We offer fast advice, quick shipping and easy no hassle returns. Shipping is free in all directions! including your purchase and returns. No gimmicks, no hidden costs – We make it easy!
Orders - Free Shipping
We are proud to offer FREE 5 to 7 business day ground shipping anywhere in Canada with no minimum purchase required. We always provide you with tracking information through a confirmation email and in addition, you can also login to your account 24/7 to see the status of your shipment.
Express Shipping
We are pleased to offer two low priced express shipping options, FASTER 4-5 business day shipping for only $10.00 and FASTEST 2-3 business day shipping for only $14.00. Order day is counted as day zero (courier's rules) This shipping charge is not refundable if items are returned for any reason. If we are unable to have your item delivered to you in the specified time frame we will refund your express shipping charge.
Returns – 30 day money back guarantee
Use it, try it, not happy? Returns are simple, even if you have worn the product, lost the packaging etc. we've got you covered. The best part, we offer two great options for return shipping: if you request a return within the first 10 days of receiving your product we pay the return shipping, after 10 days we offer a flat rate return shipping charge of only $10 plus HST. Just send a request to returns@orthomed.ca. If possible, try and have your original order number to reference. If you cannot find your order number, please provide the name the order was purchased under and we will locate you in our system. We will provide an email response the same business day.
** Exclusions**
We want all of our customers to be happy, over 99% of our products are covered by our industry leading money back guarantee. Due to health regulations, product design or use indications some exclusions apply;
iWalk 2.0, Rebound Crutches - 5 day return policy
Theratherm Moist Heat Pads - 5 day return policy
DRYPro Products - 5 day return policy
Rigid ankle / Foot immobilizers - 5 day return policy
Shoulder immobilizers / slings - 5 day return policy
Bone Growth Stimulators - non returnable
Cold Therapy products - non returnable
Tens and Like Units - non returnable
Showereez - non returnable
DRYPro Cast Relief - non returnable
ComfiHips - non returnable
Warranty Concerns?
If you have a concern with any product or have warranty issues, please email us at warranty@orthomed.ca and we will handle everything for you. Simple, convenient and speedy. We will make it right.