De Quervain's Tenosynovitis
Anatomy
The Abductor Pollcis Longus (APL) and Extensor Pollcis Brevis (EPB) are muscles that start in the forearm and attach at the base of the thumb. As they pass the wrist, they go under a tendon sheath (a band of soft tissue designed to keep the tendons in place) to ensure that when you flex your wrist, the tendons don't go lax/droop. These muscles are responsible for the movement of the thumb away from the index finger, as well as important in tasks such as letting go of an item that was in grip.
What is De Quervain's Tenosynovitis?
De Quervain's Tenosynovitis occurs when there is inflammation of the tendon covering (synovium) that supply nutrients and allow for the tendon to slide easily as muscles are contracted.
The synovium looks like insulation around a tendon and the inflammation of this insulation occurs as a result of overuse.
With inflammation, there is less room as the tendons pass under the tendon sheath. With this reduction in space, there is more friction which is felt as pain.
You may also feel like the thumb is stuck momentarily before it allows for the movement to occur as the tendon gets 'caught' as there is more friction.
Symptoms of De Quervain's Tenosynovitis?:
Pain with movement of the thumb away from the index finger

Pain in making a fist

Twisting a jar

The motion of lifting a child from under their arms
What factors contribute to developing De Quervain's Tenosynovitis?
Overuse injury of wrist and thumb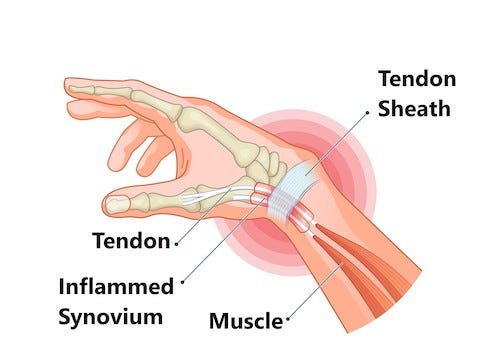 Did You Know?
De Quervains is also known as Mommy Thumb as the repetitive motion of lifting a baby can make symptoms of De Quervain's worse.
Pain is commonly displayed when performing the hand motion below. If this is true for you, please reach out to your doctor to receive an assessment and additional treatment options.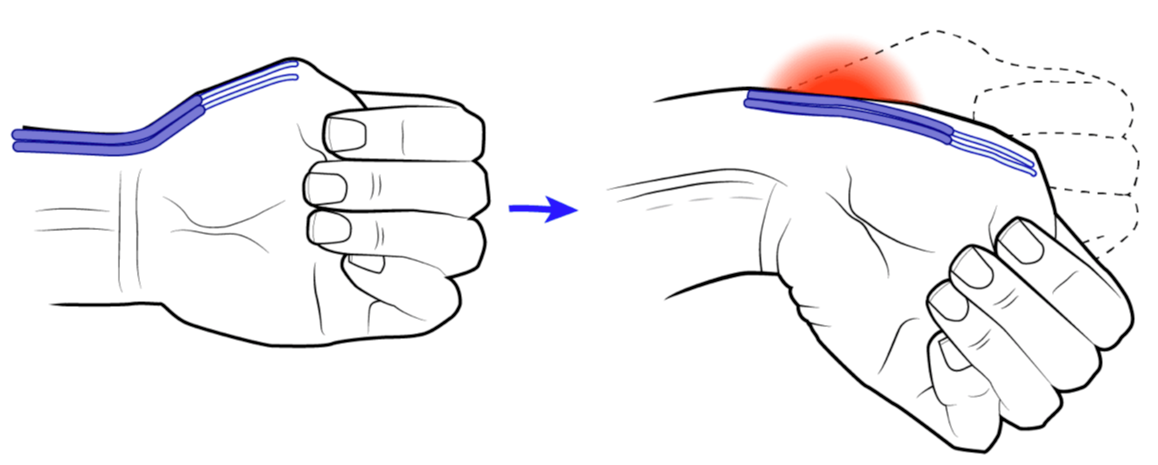 ---
What Brace Is Best for De Quervain's Tenosynovitis?
An immobilizing brace for night time use is a common option to keep the wrist and thumb at a neutral position to reduce inflammation. Here are some bracing options that we like:
With It's patent pending design, the new Ryno Lacer II provides equal tension across all laces offering supreme comfort, ease of application and superior immobilization of the wrist and thumb. New softer proprietary felt liner contains polypropylene and wicks moisture away from the skin. Memory foam padding in palm and around base of thumb enhances comfort and support.
Latex Free
---
The MedSpec Suede Thumb Support is an easily applied thumb support for deQuervain's syndrome. Lower profile options compared to the Ryno Lacer II.
Latex Free
---
Bauerfeind ManuLoc Rhizo Wrist Brace:
The aluminum stays incorporated in the ManuLoc Rhizo orthosis provide secure support for the wrist and thumb. These stays are already anatomically contoured, but they can also be individually adjusted by an orthotist for optimal support. Although immobilization of the joint is paramount at the start of the treatment, it is also important to gradually exercise the muscles to ensure long-term regeneration. The thumb support can be removed on this splint as well.
---
Reminder: Don't forget to consult your physiotherapist or healthcare practitioner for more information on how to treat De Quervain's Tenosynovits. Together with physical therapy, a brace and the right exercises may alleviate pain associated with De Quervain's Tenosynovitis.
---
Check out some of our products to treat De Quervain's Tenosynovitis

---
Need a device to assist with De Quervains Tenosynovitis but not sure which brace is right for your condition? Contact our Kinesiology team today for fast free advice.