Plantar Fasciitis - Overview
Function of the Plantar Fascia
The plantar fascia is made of connective tissue and runs along the base of your foot, supporting your arch. It begins from the heel and connects to below the base of the toes. The fascia have a shock absorbing effect when high stresses and strains are applied to the foot with weight-bearing activities.
What is Plantar Fasciitis?
Repetitive strain, or too much pressure, can result in an inflammatory response as a result of small tears or damage to the fascia. This pain can be felt as a burning sensation near the heel and stiffness on the underside of the foot.
Symptoms of Plantar Fasciitis:
Painful first steps in the morning

More painful when climbing stairs

Pain after activities

Pain near the heel of the foot

Preference to toe walking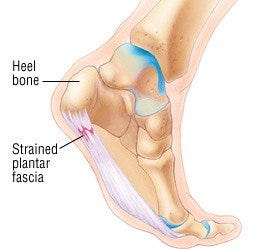 Did you know?
Women are more likely to present with plantar fasciitis than men.
Bracing and Support Options to Treat Plantar Fasciitis
For Daytime Use
Compression Socks:
The OS1st compression line allows for a low profile option to reduce swelling, improve circulation and relieve foot pain. Made of a seamless, soft moisture-wicking fabric with anti-odor treatment, the OS1st product line applies targetted compression to the plantar fascia.
Insoles:
Barefoot Science provides seven steps to provide the most mid-arch stimulation which has been known to strengthen neuromuscular pathways between the feet and the brain to provide stronger feet.

---
For Night-time Use
Night Splints:
To apply a gentle stretch on the fascia overnight so the first steps in the morning are easier. Several options come with bilateral tension straps to adjust the amount of stretch applied to the fascia.
---
For Exercise
This patented all-in-one device offers a combination of seven different foot exercises, stretches and massage therapy. It works to strengthen the often neglected muscles that lead to an improved balance, structural stability, and greater overall foot function.
---
Reminder: Don't forget to consult your physiotherapist or healthcare practitioner for more information on how to alleviate the pain. Together with physical therapy, a support and the correct exercises will increase the likelihood of overcoming Plantar Fasciitis.
---
Browse more of our products to treat Plantar Fasciitis, like these

---
Need a device to assist with Plantar Fasciitis but not sure which product is right for your condition? Contact our Healthcare team today for fast free advice.