DonJoy Lateral J Patella Knee Brace
Stabilizes the kneecap to prevent dislocations and alleviate pain. Unique patented nylon core and polyester Lycra fabric, it allows for improved airflow while still giving ample support and compression.
Stabilizes the knee cap to prevent dislocations and alleviate pain
The DonJoy Lateral J knee brace is our most popular patella stabilizing brace. The brace is equipped with a tubular, lateral "J" buttress that runs alongside the knee and provides support against lateral patellar subluxation, dislocations, or improper patellar tracking. The Lateral J can be worn during day-to-day activities, as well as sports and in water.

Drytex is DonJoy's exclusive solution for patients with neoprene sensitivities or those who prefer less warmth from their bracing. Constructed of a unique patented nylon core and polyester Lycra fabric, it allows for improved airflow while still giving ample support and compression. Perfect for people in warm weather climates and those with neoprene allergies or irritations. (Photo images are of Drytex material with seams )

With or Without Hinge? This brace is available with a removable hinge for added stability for an additional cost. You should order the brace with a hinge if you have joint instability. It will provide more medial and lateral support. Otherwise, you should order the brace without a hinge.
PRODUCT FEATURES...AND THE BENEFITS YOU'LL EXPERIENCE!
TUBULAR, LATERAL "J" BUTTRESS

Helps stabilize your kneecap (patella). Available in left or right configuration.

LATERAL TO MEDIAL STRAPS

Provides additional stabilization and you get to adjust the straps to provide the support that you need.

AVAILABLE IN DRYTEX OR NEOPRENE

Pick the material that suits your needs.
PRODUCT CARE
Hand wash with mild detergent and air dry.
SIZING AND MEASUREMENTS
Click on the Size Chart tab above to learn how to measure your leg to determine what brace size you need.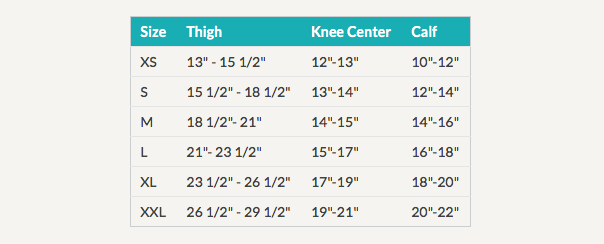 ORTHOMED IS THE BEST IN THE BUSINESS!
We offer fast advice, quick shipping and easy no hassle returns. Shipping is free in all directions! including your purchase and returns. No gimmicks, no hidden costs – We make it easy!
Orders - Free Shipping
We are proud to offer FREE 5 to 7 business day ground shipping anywhere in Canada with no minimum purchase required. We always provide you with tracking information through a confirmation email and in addition, you can also login to your account 24/7 to see the status of your shipment.
Express Shipping
We are pleased to offer two low priced express shipping options, FASTER 4-5 business day shipping for only $10.00 and FASTEST 2-3 business day shipping for only $14.00. Order day is counted as day zero (courier's rules). This shipping charge is not refundable if items are returned for any reason. If we are unable to have your item delivered to you in the specified time frame we will refund your express shipping charge.
Returns – 30 day money back guarantee
Use it, try it, not happy? Returns are simple, even if you have worn the product, lost the packaging etc. we've got you covered. The best part, we offer two great options for return shipping: if you request a return within the first 10 days of receiving your product we pay the return shipping, after 10 days we offer a flat rate return shipping charge of only $10 plus HST. Just send a request to returns@orthomed.ca. If possible, try and have your original order number to reference. If you cannot find your order number, please provide the name the order was purchased under and we will locate you in our system. We will provide an email response the same business day.
** Exclusions**
We want all of our customers to be happy, that's why over 90% of our products are covered by our industry leading money back guarantee. Due to health regulations, product design or use indications some exclusions apply;
iWalk 2.0, Rebound Crutches - 5 day return policy
Theratherm Moist Heat Pads - 5 day return policy
DRYPro Products - 5 day return policy
Rigid ankle / Foot immobilizers - 5 day return policy
Shoulder immobilizers / slings - 5 day return policy
Bone Growth Stimulators - non returnable
Cold Therapy products - non returnable
TENS and Like Units/Accessories - non returnable
Showereez - non returnable
Custom braces - non returnable
DRYPro Cast Relief - non returnable
ComfiHips - non returnable
Warranty Concerns?
If you have a concern with any product or have warranty issues, please email us at warranty@orthomed.ca and we will handle everything for you. Simple, convenient and speedy. We will make it right.