DonJoy OA Reaction Web Knee Brace
The DonJoy OA Reaction Web Knee Brace provides a discreet solution for mild osteoarthritis of the knee.
Features
Silicone Web Technology
- scientifically designed to provide shock absorption and anterior knee pain relief treating OA of both the knee joint and the patella
Low Profile Design
- wear it under pants, skirts or with exercise clothing as a discreet solution for pain
Four-way, Adjustable Wraparound Design
- comfortable, form-fitting design creates a custom like fit for most legs that is easy to apply
Patented, Integrated Silicone
- comfortable offloading of the knee with a nonslip cup effect; the hexagon design allows air pockets to gently support the knee
Easy to Wear
- the most open and lightweight design available design available in OA knee bracing
** Knee sleeve included!**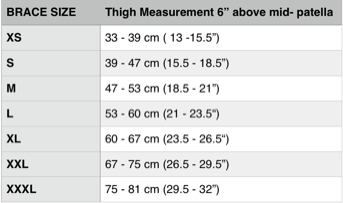 Progressive Comfort
The web absorbs shock and shifts the peak loads away from the painful area of the knee, providing a mild offload for OA.

Sustained Comfort
The open framework and mesh backing makes this brace breathable and comfortable during use.

Uni-lateral Aluminum Hinge
Pre-loaded with 6 degrees of offloading, the OA Reaction relieves pressure in the affected compartment
ORTHOMED IS THE BEST IN THE BUSINESS!
We offer fast advice, quick shipping and easy no hassle returns. Shipping is free in all directions! including your purchase and returns. No gimmicks, no hidden costs – We make it easy!
Orders - Free Shipping
We are proud to offer FREE 5 to 7 business day ground shipping anywhere in Canada with no minimum purchase required. We always provide you with tracking information through a confirmation email and in addition, you can also login to your account 24/7 to see the status of your shipment.
Express Shipping
We are pleased to offer two low priced express shipping options, FASTER 4-5 business day shipping for only $10.00 and FASTEST 2-3 business day shipping for only $14.00. Order day is counted as day zero (courier's rules). This shipping charge is not refundable if items are returned for any reason. If we are unable to have your item delivered to you in the specified time frame we will refund your express shipping charge.
Returns – 30 day money back guarantee
Use it, try it, not happy? Returns are simple, even if you have worn the product, lost the packaging etc. we've got you covered. The best part, we offer two great options for return shipping: if you request a return within the first 10 days of receiving your product we pay the return shipping, after 10 days we offer a flat rate return shipping charge of only $10 plus HST. Just send a request to returns@orthomed.ca. If possible, try and have your original order number to reference. If you cannot find your order number, please provide the name the order was purchased under and we will locate you in our system. We will provide an email response the same business day.
** Exclusions**
We want all of our customers to be happy, that's why over 90% of our products are covered by our industry leading money back guarantee. Due to health regulations, product design or use indications some exclusions apply;
iWalk 2.0, Rebound Crutches - 5 day return policy
Theratherm Moist Heat Pads - 5 day return policy
DRYPro Products - 5 day return policy
Rigid ankle / Foot immobilizers - 5 day return policy
Shoulder immobilizers / slings - 5 day return policy
Bone Growth Stimulators - non returnable
Cold Therapy products - non returnable
TENS and Like Units/Accessories - non returnable
Showereez - non returnable
Custom braces - non returnable
DRYPro Cast Relief - non returnable
ComfiHips - non returnable
Warranty Concerns?
If you have a concern with any product or have warranty issues, please email us at warranty@orthomed.ca and we will handle everything for you. Simple, convenient and speedy. We will make it right.
Available in...
Right Medial/Left Lateral or Right Lateral/Left Medial