DRYPro Waterproof PICC Line Cover
Use the Latex Free DRYPro Waterproof PICC Line Cover when showering or swimming helps keep bacteria and other contaminates away from the vein the PICC is inserted in.
If you have a PICC (Peripherally Inserted Central Catheter), then you know the area around where the PICC is inserted is prone to infection. You will find that using the Latex Free DRYPro Waterproof PICC Line Cover when showering or swimming helps keep bacteria and other contaminates away from the vein the PICC is inserted in. With a DRYPro Waterproof PICC line cover, you can keep the area around the vein completely dry, whether you are in the shower or the ocean.
If you're receiving infusion therapy for antibiotics, chemotherapy, hydration, or TPN (Total Parental Nutrition) and have a PICC line, you will be able to take relaxing and refreshing showers with the Dry Pro. Vascular Access health care professionals, infusion nurses and home infusion companies are using our waterproof PICC line cover to increase their patients level of health and quality of life.
The Dry Pro™ uses our same vacuum seal technology over your PICC or IV line, but is tan colored and open on both ends to keep your hands free for use. You can now shower, bathe and swim with a PICC line with complete waterproof protection. In order to size the Dry Pro™ for PICC lines, measure the circumference of the forearm and the bicep. The protector can be trimmed to fit anyone, just make sure that your measurements are within the range below. NOW LATEX FREE!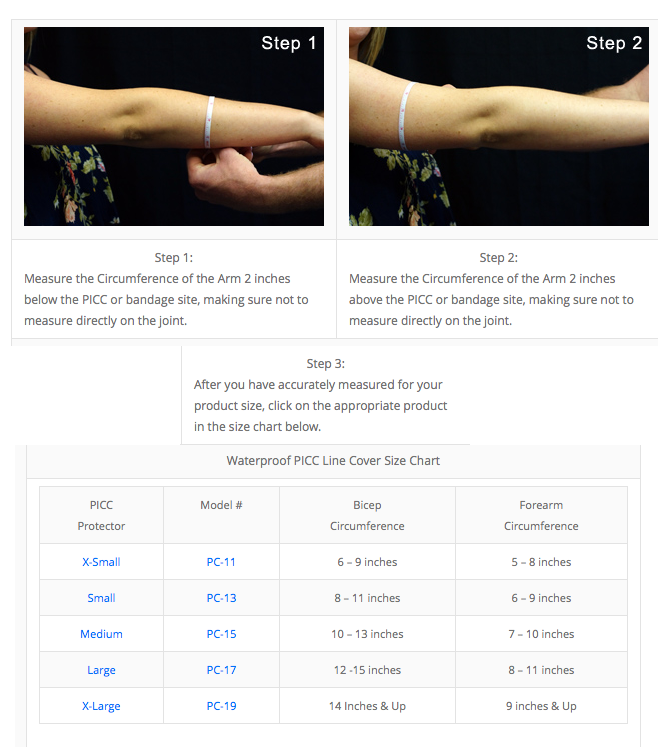 ORTHOMED IS THE BEST IN THE BUSINESS!
We offer fast advice, quick shipping and easy no hassle returns. Shipping is free in all directions! including your purchase and returns. No gimmicks, no hidden costs – We make it easy!
Orders - Free Shipping
We are proud to offer FREE 5 to 7 business day ground shipping anywhere in Canada with no minimum purchase required. We always provide you with tracking information through a confirmation email and in addition, you can also login to your account 24/7 to see the status of your shipment.
Express Shipping
We are pleased to offer two low priced express shipping options, FASTER 4-5 business day shipping for only $10.00 and FASTEST 2-3 business day shipping for only $14.00. Order day is counted as day zero (courier's rules). This shipping charge is not refundable if items are returned for any reason. If we are unable to have your item delivered to you in the specified time frame we will refund your express shipping charge.
Returns – 30 day money back guarantee
Use it, try it, not happy? Returns are simple, even if you have worn the product, lost the packaging etc. we've got you covered. The best part, we offer two great options for return shipping: if you request a return within the first 10 days of receiving your product we pay the return shipping, after 10 days we offer a flat rate return shipping charge of only $10 plus HST. Just send a request to returns@orthomed.ca. If possible, try and have your original order number to reference. If you cannot find your order number, please provide the name the order was purchased under and we will locate you in our system. We will provide an email response the same business day.
** Exclusions**
We want all of our customers to be happy, that's why over 90% of our products are covered by our industry leading money back guarantee. Due to health regulations, product design or use indications some exclusions apply;
iWalk 2.0, Rebound Crutches - 5 day return policy
Theratherm Moist Heat Pads - 5 day return policy
DRYPro Products - 5 day return policy
Rigid ankle / Foot immobilizers - 5 day return policy
Shoulder immobilizers / slings - 5 day return policy
Bone Growth Stimulators - non returnable
Cold Therapy products - non returnable
TENS and Like Units/Accessories - non returnable
Showereez - non returnable
Custom braces - non returnable
DRYPro Cast Relief - non returnable
ComfiHips - non returnable
Warranty Concerns?
If you have a concern with any product or have warranty issues, please email us at warranty@orthomed.ca and we will handle everything for you. Simple, convenient and speedy. We will make it right.
Patented vacuum seal keeps the site dry
Open at both ends allows hands to be free during showers
Latex Free
Flesh-toned
90 day guarantee
Made in the USA