MedSpec ASO EVO Ankle Stabilizer
Maximum Stabilization and Support. The ASO EVO Ankle Stabilizers new strapping and cuff design provides greater inversion/eversion control and protection against syndesmotic ankle sprains compared to original ASO.
The MedSpec ASO EVO ankle stabilizer is an EVOlutionary step forward in ankle protection. With its new strapping and cuff design, the EVO provides even greater inversion / eversion control and protection against syndesmotic ankle sprains than the original ASO. In addition, the dynamic cuff has been upgraded to offer superior comfort and suppor
Dynamic Cuff
Excess material has been removed from the internal plastic cuff to enhance the circumferential compression around the distal tibiofi bular joint. In addition, the dynamic cuff is now lined with CoolFlex padding for improved comfort and Skinlo material to resist distal migration.
Stirrup & Stabilizing Straps
Inner stirrup strap is redirected through slots in the dynamic cuff and continues outside the boot to form the stabilizing straps which better capture the calcaneus (heel) and resist inversion or eversion of the ankle to help stabilize the talocrural and subtalar joints.
CoolFlex Achilles Pad & Tongue
CoolFlex padding contains spandex fi ber to provide superior comfort along the Achilles tendon and dorsum of foot. The shoe lace is attached to the bottom of the tongue for ease of application.
Invisible Seam
For improved comfort and durability, the seam is now positioned along the rear portion of the boot. There is no longer a seam under the foot.
Indications:
Inversion or eversion ankle sprains
Syndesmotic ankle sprains (high ankle sprains)
Medial or lateral ankle instability
Subtalar joint instability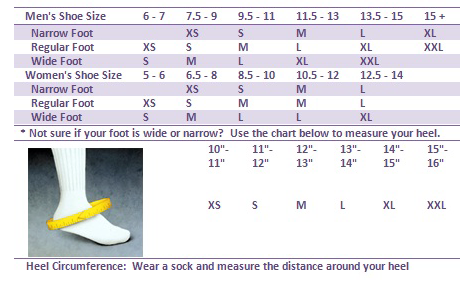 ORTHOMED IS THE BEST IN THE BUSINESS!
We offer fast advice, quick shipping and easy no hassle returns. Shipping is free in all directions! including your purchase and returns. No gimmicks, no hidden costs – We make it easy!
Orders - Free Shipping
We are proud to offer FREE 5 to 7 business day ground shipping anywhere in Canada with no minimum purchase required. We always provide you with tracking information through a confirmation email and in addition, you can also login to your account 24/7 to see the status of your shipment.
Express Shipping
We are pleased to offer two low priced express shipping options, FASTER 4-5 business day shipping for only $10.00 and FASTEST 2-3 business day shipping for only $14.00. Order day is counted as day zero (courier's rules). This shipping charge is not refundable if items are returned for any reason. If we are unable to have your item delivered to you in the specified time frame we will refund your express shipping charge.
Returns – 30 day money back guarantee
Use it, try it, not happy? Returns are simple, even if you have worn the product, lost the packaging etc. we've got you covered. The best part, we offer two great options for return shipping: if you request a return within the first 10 days of receiving your product we pay the return shipping, after 10 days we offer a flat rate return shipping charge of only $10 plus HST. Just send a request to returns@orthomed.ca. If possible, try and have your original order number to reference. If you cannot find your order number, please provide the name the order was purchased under and we will locate you in our system. We will provide an email response the same business day.
** Exclusions**
We want all of our customers to be happy, that's why over 90% of our products are covered by our industry leading money back guarantee. Due to health regulations, product design or use indications some exclusions apply;
iWalk 2.0, Rebound Crutches - 5 day return policy
Theratherm Moist Heat Pads - 5 day return policy
DRYPro Products - 5 day return policy
Rigid ankle / Foot immobilizers - 5 day return policy
Shoulder immobilizers / slings - 5 day return policy
Bone Growth Stimulators - non returnable
Cold Therapy products - non returnable
TENS and Like Units/Accessories - non returnable
Showereez - non returnable
Custom braces - non returnable
DRYPro Cast Relief - non returnable
ComfiHips - non returnable
Warranty Concerns?
If you have a concern with any product or have warranty issues, please email us at warranty@orthomed.ca and we will handle everything for you. Simple, convenient and speedy. We will make it right.
Nylon material for durability
Low profile easily fits in any type of shoe
Bilateral design which fits right or left foot
Manufactured in the US under highest quality control standards
Available in black Available in various six sizes
Machine wash gentle cycle, no bleach. Air dry