OS1st ES6 Elbow Bracing Sleeve
ES6 Elbow Bracing Sleeve can help relieve your painful symptoms and prevent future injury
If you are suffering from Tennis Elbow, Golfer's Elbow, elbow arthritis, Cubital Tunnel Syndrome, or another painful elbow conditions, the ES6 Elbow Bracing Sleeve can help relieve your painful symptoms and prevent future injury.
Each package contains one (1) elbow bracing sleeve.
Elbow Bracing Sleeve for Tennis Elbow, Golfer's Elbow, Cubital Tunnel Syndrome or General Elbow Pain
The patent pending ES6 Elbow Bracing Sleeve combines medical grade orthopedic support with the circulatory safety of graduated compression to treat painful lateral and medial epicondylitis (Tennis and Golfer's elbow), and Cubital Tunnel Syndrome. Hypoallergenic gel support system combined with Compression Zone Technology® wraps the elbow in six graduated zones of compression to stabilize the tendons for relief of pain in any activity while also keeping it in place. Easily slips on and off with a thin profile that fits under any apparel. More comfortable and effective than traditional elbow straps and products, this one-of-a-kind bracing sleeve is designed to fit any individual's shape and size. This is the most comfortable and effective elbow support anywhere.
The ES6 is an ideal alternative to bulky elbow straps, braces, cortisone injections, and other painful invasive medical procedures. If you are experiencing pain and discomfort in your arm and elbow, try our elbow compression sleeves today and experience true relief.
Indications for Use:
Tennis Elbow
Golfer's Elbow
Elbow arthritis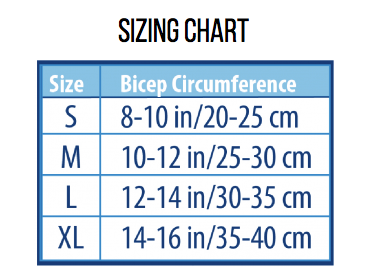 Please take the circumference around your bicep and compare to the following chart.
ORTHOMED IS THE BEST IN THE BUSINESS!
We offer fast advice, quick shipping and easy no hassle returns. Shipping is free in all directions! including your purchase and returns. No gimmicks, no hidden costs – We make it easy!
Orders - Free Shipping
We are proud to offer FREE 5 to 7 business day ground shipping anywhere in Canada with no minimum purchase required. We always provide you with tracking information through a confirmation email and in addition, you can also login to your account 24/7 to see the status of your shipment.
Express Shipping
We are pleased to offer two low priced express shipping options, FASTER 4-5 business day shipping for only $10.00 and FASTEST 2-3 business day shipping for only $14.00. Order day is counted as day zero (courier's rules). This shipping charge is not refundable if items are returned for any reason. If we are unable to have your item delivered to you in the specified time frame we will refund your express shipping charge.
Returns – 30 day money back guarantee
Use it, try it, not happy? Returns are simple, even if you have worn the product, lost the packaging etc. we've got you covered. The best part, we offer two great options for return shipping: if you request a return within the first 10 days of receiving your product we pay the return shipping, after 10 days we offer a flat rate return shipping charge of only $10 plus HST. Just send a request to returns@orthomed.ca. If possible, try and have your original order number to reference. If you cannot find your order number, please provide the name the order was purchased under and we will locate you in our system. We will provide an email response the same business day.
** Exclusions**
We want all of our customers to be happy, that's why over 90% of our products are covered by our industry leading money back guarantee. Due to health regulations, product design or use indications some exclusions apply;
iWalk 2.0, Rebound Crutches - 5 day return policy
Theratherm Moist Heat Pads - 5 day return policy
DRYPro Products - 5 day return policy
Rigid ankle / Foot immobilizers - 5 day return policy
Shoulder immobilizers / slings - 5 day return policy
Bone Growth Stimulators - non returnable
Cold Therapy products - non returnable
TENS and Like Units/Accessories - non returnable
Showereez - non returnable
Custom braces - non returnable
DRYPro Cast Relief - non returnable
ComfiHips - non returnable
Warranty Concerns?
If you have a concern with any product or have warranty issues, please email us at warranty@orthomed.ca and we will handle everything for you. Simple, convenient and speedy. We will make it right.
Indications for Use:
Tennis Elbow
Golfer's Elbow
Elbow arthritis
Cubital Tunnel Syndrome