OS1st AF7 Compression Ankle Sleeve
The AF7® KZT® Ankle Bracing Sleeve is a comfortable, lightweight alternative to bulky, restrictive ankle braces. Free Shipping
The AF7 Ankle Bracing Sleeve is a comfortable, lightweight alternative to bulky, restrictive ankle braces. The AF7 uses no straps, buckles, snaps, or Velcro—simply slip the flexible nylon sleeve over your foot and ankle, and experience immediate relief from ankle pain and injury. The AF7 can be used to treat injuries such as Achilles Tendonitis, swollen ankles, painful ankles, and more. It can also stabilize weak ankles, improve balance, and help prevent falls. We guarantee that the AF7 will provide 100% customer satisfaction—or your money back.The AF7 can be used to treat injuries such as:
Achilles Tendonitis
Swollen Ankles
Painful Ankles
It can also stabilize weak ankles, improve balance, and help prevent falls.
Features:
Advanced medical device for ankle pain, weak ankles, and Achilles Tendonitis
Flexible fit for continuous support, day or night
Soft, moisture-wicking fabric
Aids recovery
Reduces swelling
Improved balance and fall prevention
Wear comfortably under socks for extra support
Wear during walking or exercising for extra protection
Available in right and left foot versions
Introducing K-Zone
®

Technology

(KZT® ) a breakthrough design that provides the support of a kinesiology taping treatment without the inconvenience of its temporary and binding nature. Using a hypoallergenic gel stabilizer system with high resistance fabrication zones, KZT creates a strapping type effect in specific areas to steady and help secure supportive joint structures. The result is stabilization without immobilization. Proper medical-grade compression in combination with KZT provides a slip-on therapy solution for use whenever you need it. KZT is found in the newest OrthoSleeve product, the AF7 Ankle Bracing Sleeve.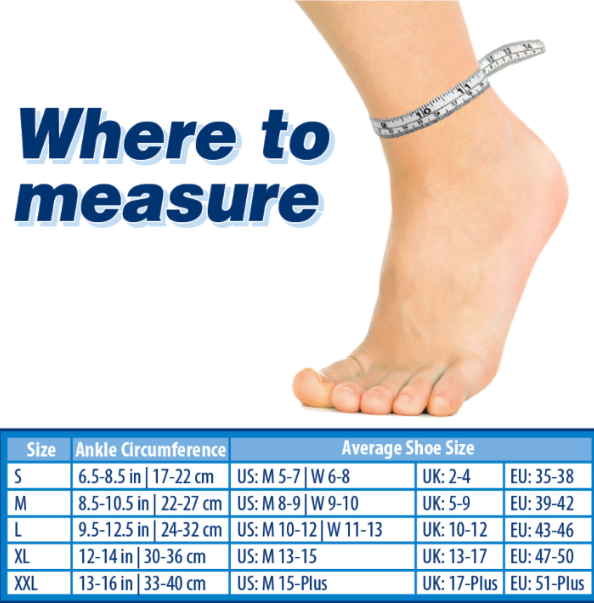 Please measure just above the ankle bone (malleolus).
Indications for use:
Achilles Tendonitis
Arch Pain
Arthritis Pain
Foot Pain
Heel Pain
Heel Spurs
Muscle Weakness
Plantar Fasciitis
Rheumatoid Arthritis
Swollen Feet
ORTHOMED IS THE BEST IN THE BUSINESS!
We offer FREE shipping in all directions! purchase, exchange or return. No gimmicks, no hidden costs–It's always 100% FREE!
We are proud to offer fast, FREE shipping anywhere in Canada with no minimum purchase required. We always provide you with tracking information through a confirmation email and in addition, you can also login to your account 24/7 to see the status of your shipment.
Exchanges – FREE Shipping!
OrthoMed is committed to a no risk online shopping experience. If you have ordered the wrong size or product and require an exchange please email exchanges@orthomed.ca and let us make it right for you. We will quickly place a new order for you, and we are pleased to cover the shipping fees for the first exchange on your order. Please note if you have multiple exchanges on the same order you will be responsible for the shipping fees after the first complimentary exchange.
Warranty Concerns?
As always, 100% FREE shipping. If you have a concern with any product or have warranty issues, please email us at warranty@orthomed.ca and once again we will handle everything for you. Simple, convenient and speedy. We will make it right.
Returns – 30 day money back guarantee – FREE Shipping! **See exclusions below**
Use it, try it, not happy? Your money back. Within 30 days returns are simple. Just send a request to returns@orthomed.ca. If possible, try and have your original order number to reference. If you cannot find your order number, please provide the name the order was purchased under and we will locate you in our system. We will provide an email response the same business day.
** Exclusions**
We want all of our customers to be happy, over 99% of our products are covered by our industry leading money back guarantee. Due to health regulations, product design or use indications some exclusions apply;
iWalk 2.0, Rebound Crutches - 5 day return policy
Theratherm Moist Heat Pads - 5 day return policy
DRYPro Products - 5 day return policy
Rigid ankle / Foot immobilizers - 5 day return policy
Shoulder immobilizers / slings - 5 day return policy
Bone Growth Stimulators - non returnable
Cold Therapy products - non returnable
Tens and Like Units - non returnable
Showereez - non returnable
DRYPro Cast Relief - non returnable
ComfiHips - non returnable
Express Shipping
We are pleased to offer two low priced express shipping options, FASTER 4-5 business day shipping for only $10.00 and FASTEST 2-3 business day shipping for only $14.00. Order day is counted as day zero (courier's rules) This shipping charge is not refundable if items are returned for any reason. If we are unable to have your item delivered to you in the specified time frame we will refund your express shipping charge.