First, A Common Question: Why Does DonJoy Have So Many Knee Braces?
The answer: DonJoy is one of the early pioneers in the orthopaedic bracing industry and today it has one of the largest catalogues of orthopaedic products worldwide. Keep reading to learn about what makes DonJoy a great choice for knee braces, and then our top picks for the best DonJoy knee braces by category.
DonJoy has been around since 1978 and it's products have evolved over time with new models and variations offered each year. In some cases when a new DonJoy knee brace version is released, the old model continues to be available (so you can buy the old or new version at the same time).
DonJoy also covers the full spectrum of severity, so with a condition like knee osteoarthritis, there are a wide range of brace types to match every level of osteoarthritis. This is also true for the DonJoy ligament braces.
The result is that there is a vast number of knee braces offered by DonJoy (and it's affiliated brands) and it can be difficult to know which option to select when you're shopping for a DonJoy brace.
The good news is that DonJoy has a lot of great products due to their long history in the field combined with ongoing research and development. There's a good chance DonJoy has a product that will be a great fit for your knee condition, and within your budget.
---
DonJoy is actually part of a larger company called ENOVIS (formerly DJO), which encompases several brands that OrthoMed carries, including: DonJoy, Aircast, Compex, CMF, Chattanooga and Procare.
Products range from orthopaedic 'soft goods' for every part of your body: knee, foot, anke, thumb, wrist, back, to rigid frame off the shelf and custom made knee braces.

There are also speciality products like bone growth stimulators, and cold therapy products.

DonJoy continually releases new knee brace models each year, along with improvements to their current braces.

Did you know?
DonJoy was founded In 1978 by Philadelphia Eagles' offensive line captain Mark Nordquist and lawyer Ken Reed. They started out as a very small company in a Carlsbad, California garage. The company was named DonJoy after their wives, Donna and Joy.
DonJoy eventually became DJO Global as the company expanded. Most recently, they have rebranded under the name ENOVIS.
---
DonJoy Knee Braces - Our Top Picks by Category
If you're interested in a DonJoy brace but you're confused about which option to go with we've listed our top picks for the most popular DonJoy knee braces by category. We also give you our reasons why we picked them along with 'next best' alternatives. This should help narrow down your options as you look at DonJoy products. Keep reading to the end for our tips on how to properly wear and take care of a DonJoy knee brace.
Our Choice for best Patella Stabilizer from DonJoy: Tru-Pull Lite
Why we like it
The removable buttress allows re-positioning for excellent patellar (knee cap) support.

It's shorter overall brace length avoids fit issues for someone with muscular thighs or calves.

Thin nylon/spandex material at the back of the brace avoids bunching behind the knee.
Other similar options from DonJoy that we also like:
Needing more support for a patellar dislocation?
---
Our Choice for best Soft Hinged Ligament (ACL) brace from DonJoy: Playmaker II
Why we like it
The Playmaker II has the same hinge as DonJoy's signature custom ACL brace, the DonJoy Defiance III (called a standard Lo-Pro hinge) which makes this a great option for activities or injuries that do not require a rigid framed brace but still need great support.

High tenacity nylon/spandex fabric used for the Playmaker II makes this brace more breathable and comfortable to wear than the original Playmaker knee brace.

The newly designed finished rubber ends on the straps make the velcro more durable and easier to open and close.
Other similar options from DonJoy that we also like:
---
Our Choice for best Rigid Frame Ligament braces from DonJoy: FullForce and Defiance III Custom
Choice for Best Off the Shelf
Why we like them
Posterior calf frame design allows athletes to wear sports equipment such as a shin pad. This frame style also clears a ski/snowboard boot easily.

Carbon composite frame on the DonJoy Defiance and aircraft grade aluminum on the FullForce are both light weight and yet extremely durable.

Replacement parts for DonJoy braces are readily available and easy to order. Even the D-rings are replaceable (which is not the case with all braces).
Other similar options from DonJoy that we also like:
---
Our Choice for best Soft Hinged Arthritis (Osteoarthritis) brace from DonJoy: OA Reaction Web
Why we like it
This popular web design provides a contoured, 'tailored' fit which will contour well for most leg shapes and sizes.

The knee compression sleeve that is included with the brace is often enough to help patients with mild osteoarthritis feel some relief on its own. The brace provides further pain relief by applying up to 3 degrees of offload.
Other similar options from DonJoy that we also like:
---
Our Choice for best Rigid Frame Arthritis (Osteoarthritis) braces from DonJoy: OA FullForce and OA Defiance Custom
Choice for Best Off the Shelf
Why we like them
Both the OA Defiance Custom and the OA FullForce utilize the sleek design of the Defiance III which is ideal for active lifestyles and athletes.

Both have an adjustable OA hinge which allows for precise control over the unloading pressure for increased comfort and reduced symptoms.

The DonJoy OA Defiance Custom is custom built for each person, with between 1-7 degrees of unload built into the frame (specific to your condition).

The OA FullForce has 4 degrees of unload built into the frame which is a good middle point to support most people.

The swiveling strap tabs allow the straps to move with the leg for added flexibility and comfort.
Other similar options from DonJoy that we also like:
---
Our Choice for best Post Operative knee brace from DonJoy: X-ACT ROM Knee
Why we like it
The DonJoy X-Act ROM has several features to decrease slipping. The anti-migration foam and unique tacky lining are features DonJoy has come up with to eliminate the number one problem with post op/ rehab braces. If you've ever had to wear a knee immobilizer you will certainly appreciate this.

Easy set up and adjustments can be made. The uprights on this brace are easily contoured for exact fit.
Other similar options from DonJoy:
---
Tips
How to Size a DonJoy Brace
Most off-the-shelf DonJoy knee braces require three measurements for proper sizing (thigh, patella, calf). Once you've taken your measurements refer to the size chart in our product descriptions, if you're having any trouble deciding on a size we are always available to help!
For custom rigid frame knee braces our Brace Fitters will support you in taking the measurements using a special measurement tool. You can book a free fitting here.
---
1) Thigh - Circumference of the thigh 15cm above the centre of the patella (knee cap)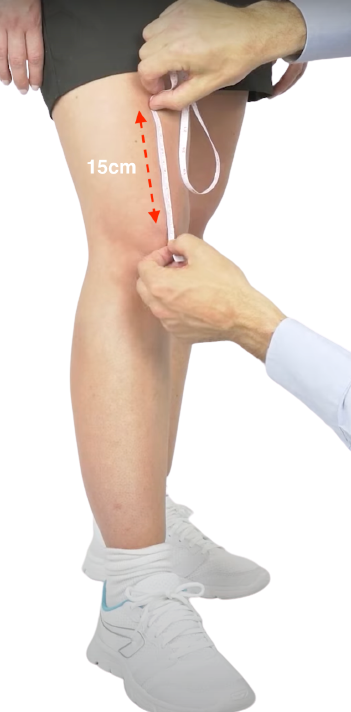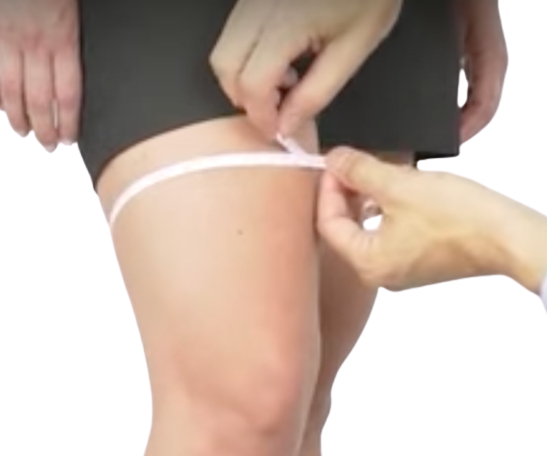 ---
2) Patella (knee cap) - circumference of the knee in the middle of the patella (knee cap)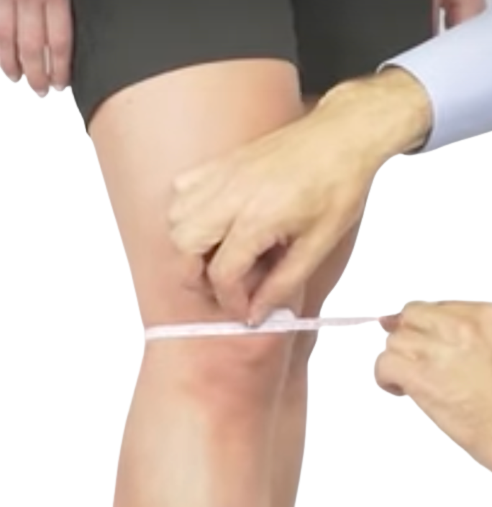 ---
3) Calf (widest point) - Circumference of the calf at the widest point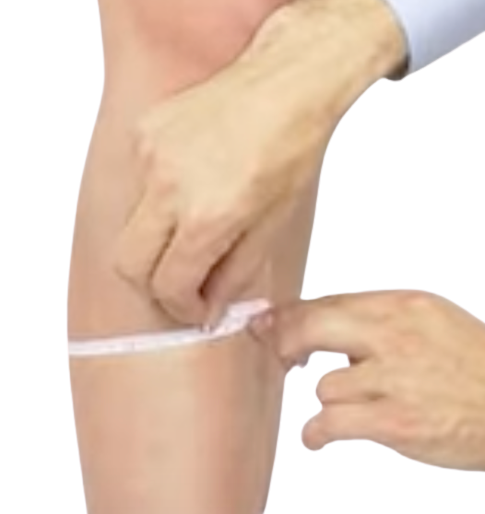 ---
How To Properly Wear Your DonJoy Brace
Wear it against your skin if possible
Almost all knee braces are designed to be worn right against your skin so that the brace does not move out of proper position.

If you were to wear your brace over jeans, for example, this can cause the brace to slide down as your pants move and pull on the brace.

If you wish to wear something underneath, a tight piece of clothing like a brace undersleeve can be purchased.
Keep it centered
When applying a DonJoy knee brace, the middle of the hinge should be aligned with the top of the knee cap. The brace will naturally settle into the correct position. This allows the anchoring strap (the straps that sit just below the knee joint) to be positioned above the bulk of your calf muscle. Those straps are what keep the brace in place properly.

Also, centre the hinge from front to back on the knee. This means if someone was looking at your knee from the side, the hinge would show as centred between the back crease of your knee, and the centre of your kneecap (the part of your knee cap that sticks out the farthest).
Properly tighten the straps
Keep the straps closest to the hinges more snug, as this keeps the brace in proper placement.

Don't over-tighten the straps that are located farthest away from the hinges. Over-tightening the thigh strap can cause the brace to slide down with quadricep activation. You want to apply the strap so that the brace sits flush against the skin, but not to the point where the strap is digging into your skin.
Our healthcare team at OrthoMed is happy to assist you with your knee brace. If you'd like us to verify if you have your knee brace set up correctly, just send us a photo and we can review it: send a photo standing shoulder width apart from the front, and another one from the side. If you can have a friend or family member who can take the photos for you that would be best. Should you prefer a live virtual consult with us to go over the fitment of the brace, please let us know and we can set this up for you!
---
Care and Maintenance
Care and maintenance for a DonJoy knee brace is the same as any other brace. Here are a few tips:
Your brace can be cleaned with a wash cloth using mild soapy water. Make sure all of the soap residue is removed and the brace is completely dry before using again.

When cleaning your brace, remove the hinge (from soft hinged braces) and any other soft pads or straps (wash them seperately) when possible.

Try to avoid exposing your brace to extreme temperatures (like a cell phone, you should try to not leave your brace in a closed car on a hot sunny day).

As your brace gets older check for signs of wear. Replacement parts are available for some models, so contact us if you need anything.